It's 10am on a lazy Sunday morning in Brooklyn, and Shikhiu and Olivia are just finishing breakfast as they pick up my call from Amsterdam.
I raise my afternoon coffee for a virtual cheers just as two-year-old Ava toddles over to wave at me through the screen.
It's been the best kind of weekend — a long one! As working parents it's tricky to find time for a proper date, so on Friday, Shikhiu and Olivia spontaneously took a day off together.
"We looked at each other, like, 'A whole day without the baby? What are we gonna do?'" says Olivia, laughing. Silly question. They spent it together on their VanMoofs, biking around the city. They love this city.
Born in Hong Kong, Olivia came to NYC for college and never left. Shikhiu grew up in St. Louis, Missouri, then sampled some bigger cities before realizing he's just a sucker for a very urban setting: "New York was definitely my calling."
These days, the couple live in Carroll Gardens but work downtown. Shikhiu is a UX design manager at a big tech company (yup, first one that pops into your mind), and Olivia is creative director of a jewelry brand.
"We live in the city, so we don't own a car. I don't even know how to drive!" says Olivia. "It can be hard to get around, but being able to bike has allowed us to go places where we normally wouldn't have gone."
This year, both Shikhiu and Olivia made the switch to commuting to work by bike, and recently, even their daughter is joining for weekend rides.
But wait, it's not that cut-and-dried — the Ing family didn't always bike. A series of aha! moments pulled them towards their cycling destiny.

Aha #1: It's kind of a no-brainer
Shikhiu paints a nostalgic picture of his good old-fashioned childhood: "It was like, 'Okay, go play outside now, and we'll see you before the sun sets.'" He remembers biking endless circles around the suburbs with friends after school.
"But like most people, when you get a car, you kind of forget about your bike," he says wistfully. "The car becomes your priority, or rather, the evolution of the bike."
Shikhiu picked up cycling again at college in Chicago, but then drove a car after he moved to San Francisco for work. Because, you know, convenience. Until one day he realized it wasn't actually so convenient.
"I basically just looked at the numbers," he says. "San Francisco's a small city, but traffic can be quite bad. It took me 40 minutes to drive to work, and my work was literally 4 miles away. This is insane, I thought...I bet I could ride my bike to work in 15 minutes!"
So he did. No-brainer, right?
Aha #2: It makes you feel like a zen badass
The first biking epiphany was great, but when Shikhiu moved to New York, cycling took a back seat again — this time to the relative convenience of NYC public transportation.
Until the baby, that is. Shikhiu wryly describes his second aha! moment a year after Ava was born: "I was trying to go to the gym, feeling inactive, like a pile of human sludge. But it was so hard to work into my day."
"I sat there and thought, wait — I spend 40 minutes twice a day going to work and back, why don't I pick cycling back up?"
He half-laughs, half-groans as he remembers what came next.
"Every day for the first month, with all those bridges you have to cross from Brooklyn into the city, I was like, 'I'm gonna die!' But it got easier and easier. I just got sucked back into it." Now, even Shikhiu's weekend routine has shifted to include longer rides out of the city with friends.
For Olivia, biking was always "a leisure thing" until recently, when she had an identical realization: she was spending 45-60 minutes commuting already — why not reclaim that time?
"I might as well just get on the bike, right? I was dancing around what I should do. I tried a Citibike but ended up so discouraged. Going up the bridge was very, very challenging for me. I was about to give up, but obviously once I tried the Electrified X I was like, yes, that's it!"
Olivia talks about arriving at work in a different state of mind, after having that time for herself: "I definitely feel a lot lighter. If I was on the subway, I'd probably either be watching some video or already be stressed out about work."
"When I'm riding, I'm focussing on the traffic and the people and that's it. It almost feels like meditation."
Aha #3: It actually is better together

"One of the best things about having a kid is introducing the things we enjoy to our daughter, and see her enjoy them, too," Shikhiu nods at little Ava. A few months ago, they installed a child seat on Shikhiu's VanMoof, and family rides have been a solid tradition ever since.
"Olivia and I biked around before, but getting a baby seat for the bike has really completed the experience. It's amazing to see how Ava takes it in. I'll ask her, 'Do you like going fast?'" says Shikhiu.
"Riding behind Shikhiu, I see that Ava's got her hands out, like she's feeling the wind," Olivia adds. "Sometimes she'll even fall asleep, it's so soothing."
So Ava feels safe on the road, but do they? "It wasn't like this several years ago, but I feel like cars are becoming a lot more adjusted to bicycles," says Shikhiu. "Especially if drivers see a baby seat, they're very respectful and cautious."

It's an uncommon sight still, a tiny kid on the back of a bike, and the Ings cause a bit of a commotion on a family ride.
"We've really only gotten positive responses to riding as a family. People definitely point, though! I guess it is kind of adorable," Shikhiu admits with a smile.
Combine that attitude shift with an uptick in the number of bike lanes in New York, and it seems like there's never been a better time to make biking a family affair.
Shikhiu and Olivia close our conversation on a thoughtful note: "The political climate is so divisive right now, but it feels like we all do want to meet in the middle. In New York, we all come from different cultures with different ideals and beliefs. Whatever your political standing, though, we're all New Yorkers."
And at the end of the day, maybe that's the answer? It's clear to the Ing family, at least: all we need is more rides together. ⬤
OLIVIA rides...
The VanMoof Electrified X. "I just feel very empowered. Shikhiu turns around and I see that he's surprised I'm right there behind him, haha! I love it."
SHIKHIU rides...
The VanMoof D-series (Düsenjäger). "Being a designer myself, I love that it's super clean, super minimal. It's just a very well-thought-out commuter-style bike. I love that the lights, dynamo hub, and basket are integrated."
AVA rides...
The VanMoof Model T (Tiny). Just kidding, not yet! Shikhiu admits he's the one riding our cult-favorite fun-size bike for quick errands around the neighborhood: "I saw it and was like, okay, I have to get one."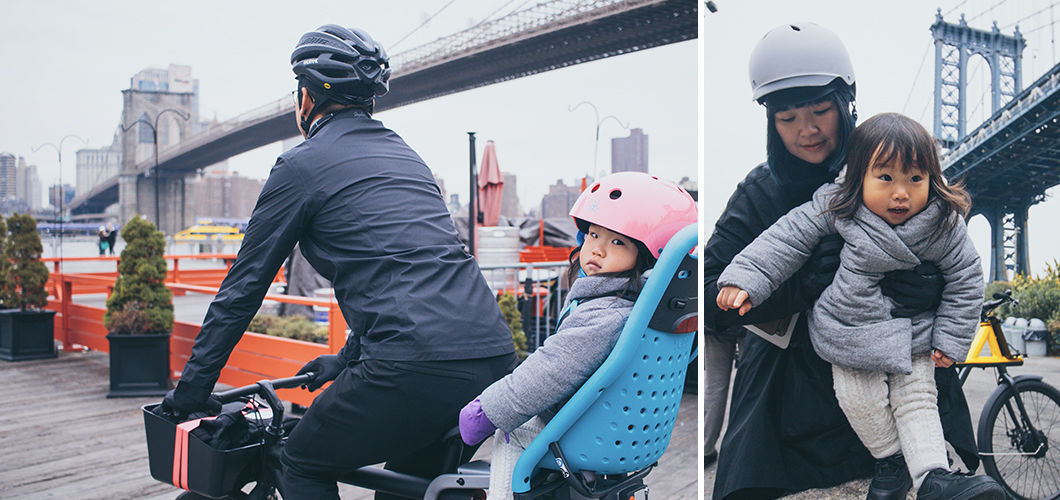 Watching
Olivia: "I'm a nerd for superhero and crime shows like The Flash. I watch them with no sound, usually when the baby's sleep. Maybe that's why I lean towards the action heavy shows? I can't hear the dialogue!"
Jamming to
Shikhiu: "I'm really into Joji right now (think low-key modern beats, a little melodramatic). I love music so much that I got bone conducting headphones for on the bike. It feels safer being able to hear things on the street, and if another cyclist sees me, they know I can hear them."
Snacking on
"Ava loves plain rice. It's so ironic — we try to give her all this tasty food, and she's like 'NO.' When all else fails, give her a bowl of rice and she'll be happy."