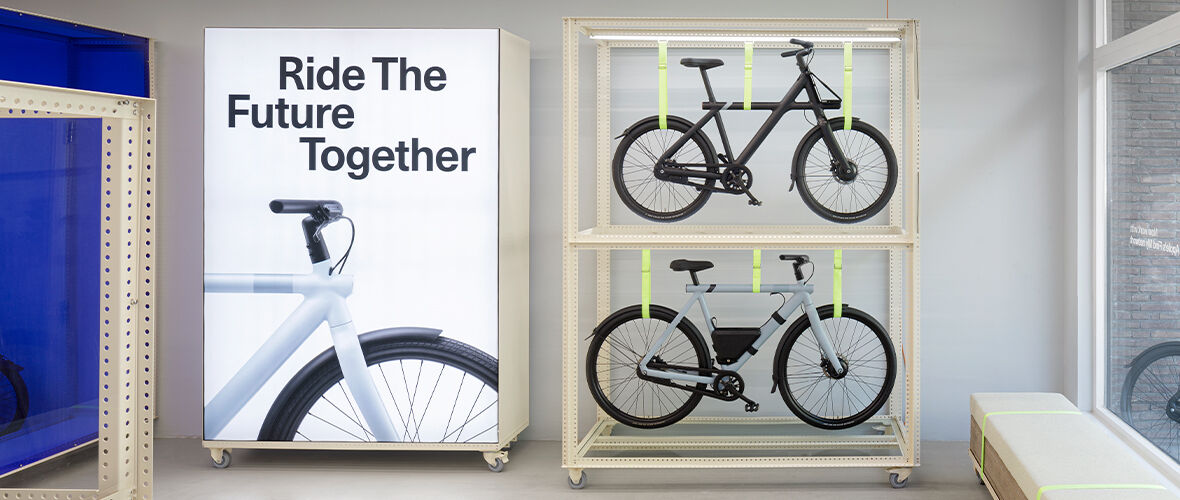 We're expanding our service footprint from 8 to 50 cities across the world so our riders have better access to our service. To make sure you're never off the road for long, we've opened Service Hubs that can offer services of every kind to our growing community of riders. We've also partnered with independent bike shops so you can get help in your local area.
What is a Service Hub?

Our state-of-the-art Service Hubs anticipate everything a VanMoof rider might need – from test-rides and tune-ups, to faster-than-ever repairs and services of every kind. Service Hubs aim to bring us closer to our riders, so you can access our services easier and faster than ever before. You're welcome to stop by our Service Hubs in your hometown for a test ride, a tune-up, repair, or just for a great cup of coffee.
What is a certified workshop?

A certified workshop is an independent bike shop certified and trained by us to perform maintenance and repairs on VanMoof bikes. This means you have access to almost the same level of VanMoof service you'd get from a Service Hub or Brand Store even if your city doesn't have one just yet. Test rides are available at selected certified workshops.
How can I book an appointment?

Due to current Covid regulations, you must book your appointment in advance. You can book your appointment via your My VanMoof account. You'll be directed to our booking tool via the 'Bike Doctor' page. Click on 'Find a solution' option, and simply follow the steps.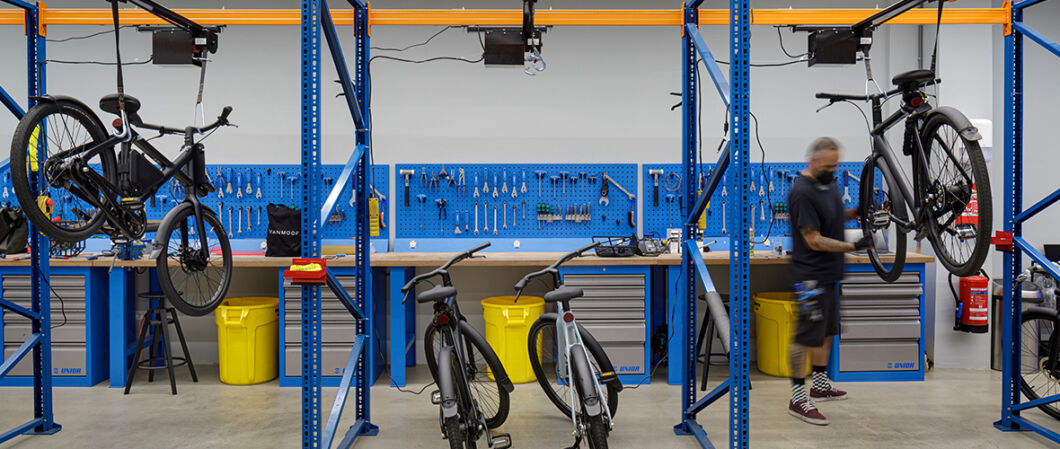 NETHERLANDS

Amsterdam-Oost, Service Hub
Mauritskade 55
Amsterdam, NH 1092 AD

Amsterdam-West, Service Hub
Danzigerbocht 17
1013 AM Amsterdam

Eindhoven, Service Hub
Philitelaan 67
5617 AM, Eindhoven

Rotterdam, Service Hub
Mariniersweg 68
3011 NR Rotterdam
Utrecht, Service Hub
Savannahweg 63-65
3542 AW, Utrecht

Amsterdam, certified workshop
WheelGood
Oudezijds Armsteeg 22
1012 GP Amsterdam

Almere, certified workshop
Scooter en Motor service
Jool-Hulstraat 3
1327 HB Almere
Amersfoort, certified workshop
Broers Fietsreparateurs
Zuidsingel 59
3811 HD Amersfoort

Arnhem, certified workshop
Fiets Totaal Elden
Klapstraat 45-A
6842 AC Arnhem
Groningen, certified workshop
TrendEwheels
Schuitendiep 2,
9711 RC Groningen
Haarlem, certified workshops
Green Bikes
Kruisweg 30
2011 LC Haarlem

Fietskamer
Kleine Houtweg 5
2012 CA Haarlem

The Hague, certified workshops
Van Buuren Fietsen
Van de Wateringelaan 206
2274 CN Voorburg, The Hague

Beer Fietsen
Weimarstraat 31
2562 GP The Hague

Hilversum, certified workshops
Etappe-CC
Havenstraat 43C
1211 KG Hilversum

Van Beek Tweewielers
Herenstraat 73
1211 CA Hilversum

Leiden, certified workshop
Euro Tweewielers
Breestraat 143
2311 CM Leiden

Maastricht, certified workshops
Alley Cat Bikes & Coffee
Hoenderstraat 15-17
6211 EL Maastricht

Zuydfiets
Ambyerstraat-Noord 40A, 03-04
6225 EE Maastricht

Nijmegen, certified workshops
Jan Kooij 2 Wielers
Nieuwe Dukenburgseweg 9
6534 AD Nijmegen

Fietsenmaker Grootstal
Hatertseweg 469
6533 GH Nijmegen
Zwolle, certified workshop
Stappenbelt Bike
Betje Wolffstraat 1a
8023 BT Zwolle
​​_______________
GERMANY

Berlin, Service Hub
Torstraße 42
Berlin, BE 10119
Easier to reach via
Linienstraße 32

Bremen, Service Hub
Fabrikenufer 113
28217 Bremen

Cologne, Service Hub
Melatengürtel 131
50825 Cologne

Frankfurt, Service Hub
Schillerstraße 27-29
60313 Frankfurt am Main

Hamburg, Service Hub
Großer Burstah 45
20457 Hamburg

Münster, Service Hub
An der Germania Brauerei 7
48159 Münster

Munich, Service Hub
Atelierstraße 16
81671 Munich

Bonn, certified workshop
7 Bar Bikes
Gierolstraße 53,
53127 Bonn

Berlin, certified workshop
Another Kind Of Bikeshop - AKOB
Bergmannstrasse, im Hof 59,
10961 Berlin
Dresden, certified workshop
Zweirad Resewski GmbH
Otto-Mohr-Straße 4
01237 Dresden
Dortmund, certified workshop
Hörder Bike
Wenzelstraße 5
44263 Dortmund
Essen, certified workshop
2-Rad eMobilität
Alberstr. 5
42555 Velbert, Germany
Essen, certified workshop
KS Bikes
Gladbecker Str. 340,
46240 Bottrop, Germany
Hannover, certified workshop
Bicycle Café
Asternstraße 2
30167 Hannover

Stuttgart, certified workshop
Stadtrad Stuttgart-West GmbH
Gutenbergstraße 45A
70176 Stuttgart
Leipzig, certified workshop
eBike Haus.de
Johannisplatz 21
04103 Leipzig
​​_______________
ENGLAND

London, Service Hub
6 Circus Road West
London, SW11 8EZ
Bristol, certified workshop
Holy Spokes
Barton Hill Trading Estate
1a Herapath Street
Bristol BS5 9RD
​​_______________
SCOTLAND
Edinburgh, certified workshop
Leitch Cycle & Co
276 Leith Walk
Edinburgh
EH6 5BX
​​_______________
IRELAND

Dublin, certified workshop
Life in Motion
48A Harold Cross Road
Dublin 6W,
D6W P767
​​_______________
AUSTRIA

Vienna, certified workshop
Bike Vienna
Hegelgasse 19
1010 Wien
​​_______________
FRANCE

Paris, Service Hub
157 Avenue de France
75013 Paris

Paris, certified workshop
Repair And Run Paris Voltaire
64 Boulevard Voltaire
75011 Paris

Bordeaux, certified workshop
Help Velo
33 rue de la Rousselle
33000 Bordeaux
Lyon, certified workshop
Baroudeur Cycles
10 Rue Sergent Blandan 10
69001 Lyon
Strasbourg, certified workshop
Repair and Run
9 Rue du Ziegelfeld,
67100 Strasbourg
​​_______________
BELGIUM

Brussels, certified workshop
Bike and Repair
321 avenue de la couronne
1050 Ixelles

​​_______________
FINLAND

Helsinki, certified workshop
Bicyclean Helsinki
Luotsikatu 14,
00160 Helsinki
​​_______________
DENMARK

Copenhagen, certified workshop
Rosenborg Cykler
Rosenborggade 3
1130 Copenhagen
​​_______________
SWEDEN

Stockholm, certified workshop
Cykel & Natur
Ralångsvägen 4
120 50 Årsta
​​_______________

JAPAN

Tokyo, Service Hub
3 Chome-26-3 Jingumae
Shibuya City, Tokyo 150-0001

_______________
Brooklyn, Service Hub
326 Wythe Avenue
Brooklyn, NY 11249

Los Angeles, Service Hub
412 Broadway
Santa Monica, CA 90401
San Francisco, Service Hub
886 Valencia Street
San Francisco, CA 94110
Seattle, Service Hub
2235 8th Avenue
Seattle, WA 98121

Washington, DC, certified workshop
ElectriCityBikes
4800 Wisconsin Ave NW,
Washington, DC 20016

Austin, certified workshop
Coming soon
The 50-city expansion will roll out more locations across the world throughout the year. Keep an eye on your inbox for new location announcements. Any recommendations on where you'd like to see us open next? Let us know in our service location survey.