Cities & Cycling
VanMoof x mein-dienstrad.de: our new partnership designed to make riding electric even easier in Germany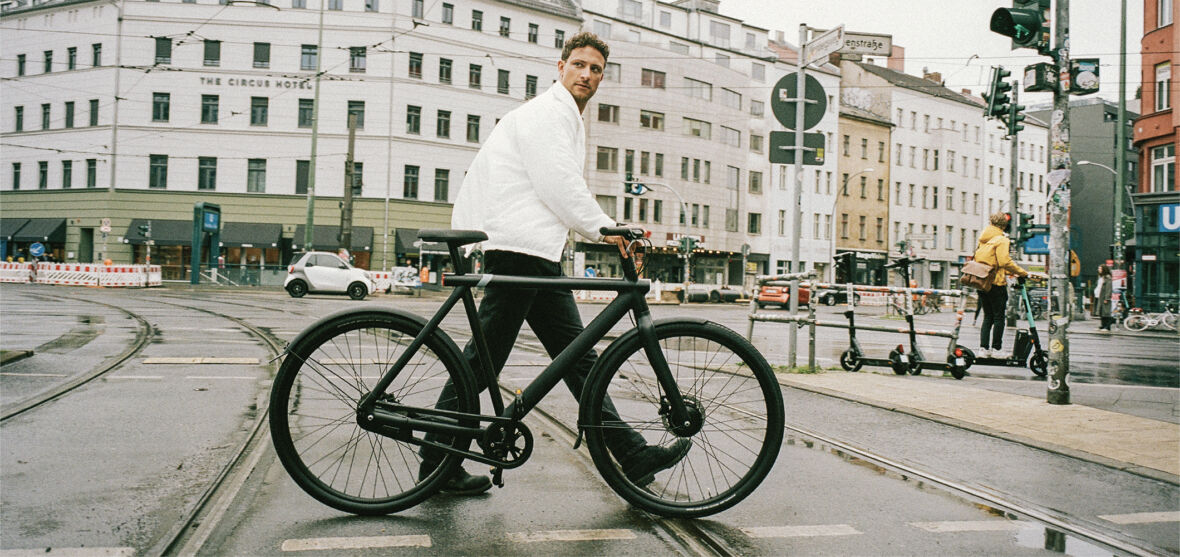 We know that there is nothing like an energizing bike ride to work on a Monday morning to get you ready for the week ahead. And to make sure that even more riders in German cities get the chance to boost their commute and crunch inner-city journeys, we've teamed up with mein-dienstrad.de, a leading provider of company bike leasing in Germany. Here's how they'll help us get more people than ever on e-bikes.
The 411 on mein-dienstrad.de
With huge bonuses for employees based in Germany – namely saving up to 40% on tax incentives – there's a whole host of reasons you should lease an e-bike in Germany. Mein-dienstrad.de is one of the leading providers of bike leasing for a reason. Just like us, they believe that biking is the best way to get from A to B – and everything in between. And they know how to sweeten the deal even more for those on the fence about riding electric.
Mein-dienstrad.de offers full insurance coverage, as well as wear and tear protection. That means from battery to brakes, you can ride worry-free on the most iconic city e-bike out there. The best part? If you fall head over heels in love with your bike by the end of the lease, then you'll get the opportunity to keep it for good. So don't hold back – there's no expiry date on this lease.
Why offer e-bike leasing?
Where do we start? As an employer, offering your people the option to lease a VanMoof e-bike is one of the best things you can do to retain and attract talent. Biking has a proven track record of boosting brain power and concentration – which can only do wonders for productivity. To top it off, riding electric puts the control of the commute back in your hands, giving your employees the chance to arrive at the office stress-free and ready for the day ahead. Here's how offering e-bikes to your employees can sweeten the return to the office, too.
How does it work as an employer?
Once you've decided to partner up with mein-dienstrad.de the process is simple. Just get in contact with them via their contact form. When that's done, the rest will happen digitally via their easy-to-use portal, which will provide you with an overview of the entire process. Once you've received your partner code, you can let your employees know. They'll then be able to head to our website, choose a model of their choice of our award-winning city e-bikes, the VanMoof S3 or X3, and place their order.
How does it work as an employee?
With all the boring stuff taken care of, it couldn't be more simple to get a hold of your leased VanMoof of choice. Once you've chosen your model via a specialist dealer or our website, your employer can request to lease the e-bike on your behalf via mein-dienstrad.de. You'll be taking the streets by storm in no time.