VanMoof V
The VanMoof V revealed: How we're making sure our high-speed bike rides smoother than you thought possible.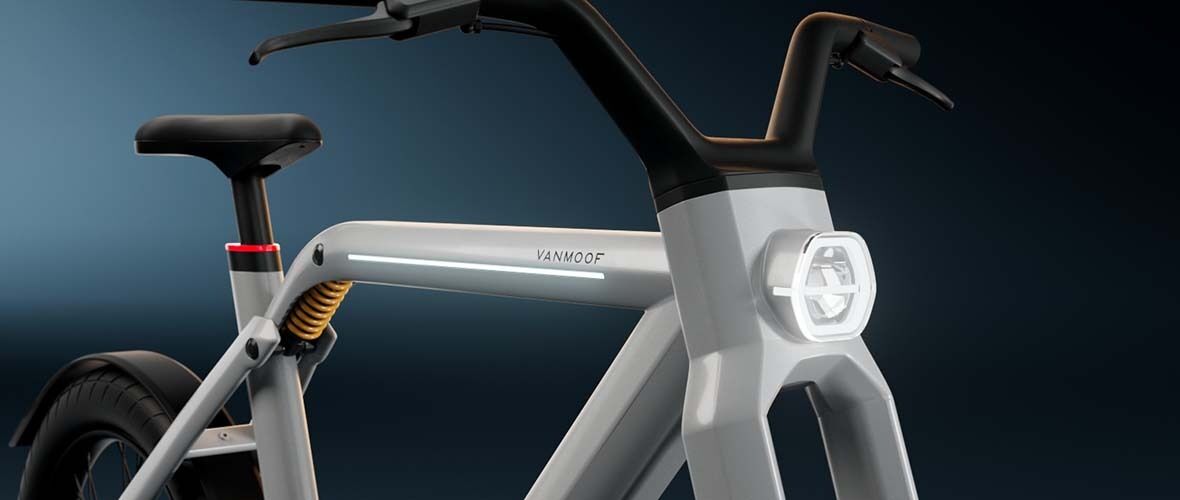 Our very first high-speed e-bike, the VanMoof V, will pave the way for a new kind of city mobility. Pushing the boundaries of what e-bikes can do, this bike will set a new benchmark for how we negotiate our cities as they expand and evolve. We know the V will be fast. So how do we plan to make sure our riders feel comfortable whatever the speed or distance of their journey? Industrial Designer, Marjolein Deun explains.
Reinventing comfort at top speed
The high-speed e-bike category is full of potential, but there's something missing: nobody has yet designed a bike that seamlessly integrates speed, ease, and comfort. And that's where we come in. Built to tackle all conditions, the VanMoof V will have thick tires, full suspension (both front and rear), and a robust frame that's built for smooth riding no matter the speed or distance. Our Design teams across Amsterdam and Taipei are in the process of perfecting these features to make sure that navigating city terrains at a faster speed is as comfortable as possible for riders across varying urban topographies. After all, as VanMoof Co-founder Taco Carlier points out, "We're not making this bike because of what the category is today – we're doing this for what the category can be tomorrow."

With thicker tires and a more robust frame, the V will be able to conquer much longer journeys with ease. "The faster you go, the more need you have for suspension," Marjolein explains. "The little bumps will be filtered out and you'll experience that extra bit of softness on the roads". Our city e-bikes, the VanMoof S3 & X3 have thick, two inch tires to stabilize your ride when roads are peppered with potholes, or, like in Amsterdam, criss-crossed by tram rails. But grip becomes even more important at higher speeds: "You have much more grip with thicker tires. And if you have thicker tires as part of the suspension system, we can provide even more comfort for the rider."
And we're not stopping at our cities. We'll fill the gap between rural and urban mobility with the VanMoof V. How? By extending its capabilities beyond every other e-bike on the market: "Our current city e-bikes are designed to go fast within the city, but the V will make it possible to navigate around larger cities and go from city to city. It will be a bike built not only for cities, but for the roads around them." Making sure that our first high-speed model can master these longer journeys will make this bike a viable replacement for the car or moped.
"this will be an entirely new adventure"
On the road to the VanMoof V: Where are we now?
On October 12, we introduced the VanMoof V to the world, and the first riders are expected to get their hands on their bike by the end of 2022. So, what has the journey looked like so far for our Design team, and where do we go from here? "It all started with a vision to shift the transport hierarchy on our streets," Marjolein tells us, "We researched mobility behavior, made key decisions about the design, and sketched hundreds of mockups. We then refined a final 3D mock up over the course of several months. It was an incredibly intense process, but now we have time to split up into projects and really focus on the details."
With five Product Designers based at our Amsterdam headquarters, and another six Industrial Designers in Taipei, it's vital the team stays in close communication throughout the design process: "We all work together on the bike but split it up into projects – focussing on the front suspension, the handlebars, or the battery, for example. Both teams worked on the concepting for this project, but as our assembly line is in Taiwan, the finishing touches are usually refined there." When it comes to the bike's suspension, our digital tools are an invaluable way to test the design of each part before it's developed: "We use digital testing tools so we can test the suspension with different riders' weights, and work out where it would work best to create the smoothest ride."

And perfecting the mechanics of the bike is only half of the challenge: like our city e-bikes, the VanMoof V will be jam-packed with smart electronics to make the riding experience even more seamless. Our Electronic Engineers are involved from the outset of the design process to make sure the mechanics and the electronic smart components of the bike are perfectly integrated.
"we're introducing features we haven't ever had in our bikes, like better suspension."
Testing testing, one two, one two: Putting the VanMoof V through its paces.
Prototyping and testing the VanMoof V in different environments throughout the coming year will be crucial. "We want to test this bike extensively and ultimately put the best version we can out there. This is also why we need longer development times." While we already know how, for instance, the Kick Lock works in our city e-bikes, "this will be an entirely new adventure," Marjolein tells us. And to say we're excited to challenge ourselves to create a truly original e-mobility solution at VanMoof is an understatement.
But not everything will be entirely new for the Design team. The final VanMoof V will be an amalgamation of brand new and unexplored features, and the very best of our current range of city e-bikes, the VanMoof S3 & X3 (Turbo Boost, we're looking at you). "We can use our existing tech platform, the beating heart of all VanMoof e-bikes, so in that way we can already test parts of the V," Marjolein says, "But we're introducing features we haven't ever had in our bikes, like better suspension."

Gradually each part will be finished, and that's when each and every component is really put to the test: "We make the first samples and both sets of teams test every part rigorously." The final product is shaping up to be pretty special. So, are you ready to ride faster and smoother than ever?
Already got your hands on an access code? Head over to our website to reserve your VanMoof V for €20/$20/£20/¥2500.
If you haven't got an access code yet, join our access code waitlist.