Inside VanMoof
Stinky tofu, product design, and Mahjong: VanMoof designer Pam Pan on how to win in Taipei
It's two weeks into rainy season in Taiwan, but Pam Pan biked to work this morning anyway. On an e-bike, of course — it's only ten minutes to the VanMoof Taipei office on her Electrified X.
"Which is great," she admits with a laugh, "Because we start work at 9am, and I usually sleep until 8:30!" She's got her morning routine pared down to a spartan twenty minutes, and it even includes a bowl of muesli. "Once I upgrade to the new Electrified X2, maybe I'll be able to squeeze in a few more minutes of sleep?"
It's a funny thought, Pam hitting snooze for an extra long lie-in, because she's such a whirlwind in the VanMoof world. Since joining our research and development team two years ago, she's played a big part in designing the most advanced VanMoof bikes to date: the Electrified S2 & X2. She didn't start there, though.
"In Taiwan, it's hard to find interesting design jobs. I really wanted to work for a company that's not just doing the same old, same old. Let's put it this way — I didn't want to just design phone case covers." Pam hadn't heard of VanMoof before, and wasn't even a bicycle buff, but a random connection got her an interview, and the rest is history.
"I got hired and basically flew straight to Tokyo!" Pam says, shaking her head. She's a product designer, but since she happens to also be a visual design whiz, her first project for VanMoof was our 2017 pop-up store in Tokyo.
Built for the launch of the Electrified X — a bike designed exclusively for Japan — the pop-up was a trial by fire for Pam. She worked with VanMoof co-founder Ties and a local team on a tight turn-around, doing everything from helping oversee construction to doing a last-minute IKEA run to buy more chairs right before the pop-up launch (which, by the way, was a cracking success).

Things haven't slowed down much since then. Pam works in the Taipei office on concepting and product development, but recently she's travelling again, this time to collaborate with VanMoof's production partners in China.
"I usually come up with the first look for VanMoof products, but with the ES2 & EX2, I get to take it one step further and keep an eye on the production process. It's not just sketches anymore."
Does designing with manufacturing in mind change how Pam designs? "I try to first stay true to my design, and then I work with the mechanical engineer to see how we can bring it to life. But I don't let that limit my concept. Otherwise everything would be so boring! It would all look the same."
Of course, a lot of work goes into making VanMoof bikes so strikingly minimal. Just turning a block of aluminum into the top tube, for instance, is a complex process. Then try fiddling with a bunch of tech to fit perfectly inside of it. Redesigning the Electrified with more powerful, but slightly bulkier parts was an especially tricky challenge:
"First we played with shape to make the upgraded battery fit perfectly in the down tube. Then we fine-tuned the size of the top tube and the rest of the frame to get the proportions perfect. It's got to be functional, but balanced and beautiful."
In her off-hours, Pam keeps her own life balanced with her two great passions: food and travel. "I was born in Taipei, and I love living here. But when we have bad weather, I'll fly somewhere else — Myanmar, Thailand, Japan. They're all so close by, it's super convenient."
But for food, Taipei really can't be beat. The first Taiwanese delicacy that Pam always feeds to curious visitors is stinky tofu (it's a love-it-or-hate-it thing, she says). "We love to eat here. No matter how busy it gets at the office, we always take the time to head out for a warm lunch together — usually a traditional noodle or rice dish. My German husband, meanwhile, likes to eat a cold sausage for lunch. Unbelievable!"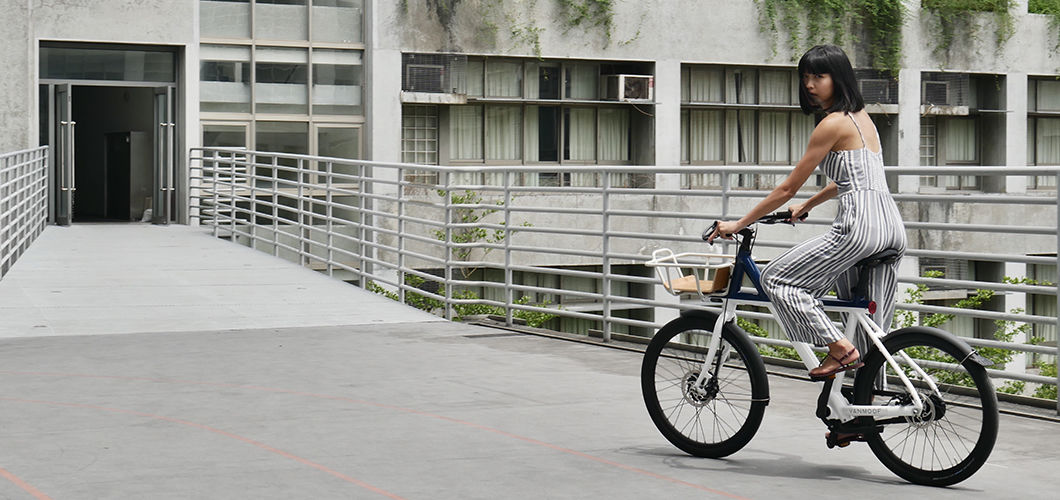 For all her offbeat energy, Pam's turned into a hopeless VanMoof cliché. Once a public transportation kind of gal, she's a full-on bike evangelist now, loud and proud.
"I box and do yoga, so it's not even really the physical activity, per se. I just love the freedom that cycling gives you — I can bike anywhere, park anywhere, and I never have to wait in a smelly crowd, like you do on the MRT [subway]."
And when she's not winning rush hour, Pam spends her weekends working on her Mahjong game strategy. Her family's annual Chinese New Year tournament is coming up soon, and she's in it to win it. "The real trick to winning is wearing red underwear," she deadpans. "Then you're guaranteed to win."
Thanks for the tip, Pam. Whatever the case, you're definitely winning. ⬤
Images courtesy of Pam Pan