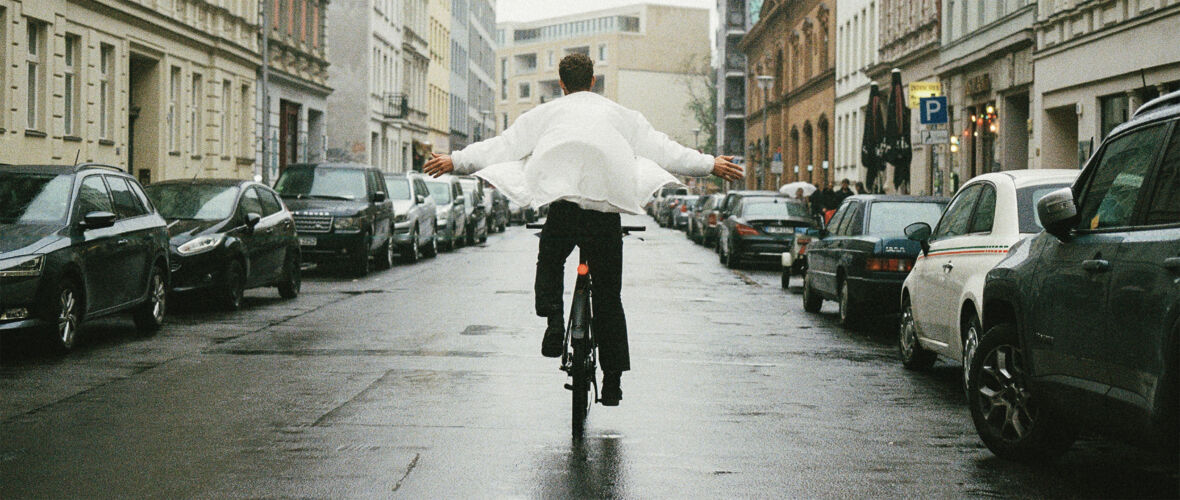 City living can be hard work, but it doesn't have to be. Riding an e-bike helps you coax out your city's potential and brings you into the thick of the action. All you need is a little storage, a power outlet, and a curiosity to explore. Ready to get stuck in? We've put together some tips and tricks so you can get the most out of e-biking in your city.
1. Get the most out of your bike's battery
No more nasty surprises: one of the best ways to hack city riding is to maximize and maintain your e-bike's battery. Charge up whenever and wherever you can, but don't leave your bike plugged in forever – overcharging will end up limiting the amount of juice your battery can hold in the long run. Keep your tires nicely pumped up and pedal a little harder if you're running a little low so your battery doesn't have to work so hard. And while it's not the best to run out of battery half way through a journey, don't worry: you'll still be able to ride your bike, you'll just be running on 100% you power. And leg day is every day, right?

If you're worried about how to charge your e-bike if you live above the first floor – don't be. There are plenty of solutions for charging your VanMoof up without having to carry it up and down every time. Long charging cables are a practical way to reach a little further, and plenty of buildings now have charging cables in ground floor bike storage spaces. The removable PowerBank for the VanMoof S3 & X3 gives you up to 100 km extra range on your rides and makes it possible for you to charge your bike whenever, wherever. The all-new VanMoof S5 & A5 will have a solution for speedy charging too – so keep an eye out for an announcement very soon…
2. Be ready to ride, rain or shine
Let's talk rain gear. Riders in cities like our hometown of Amsterdam do this one pretty well, and for good reason. When biking is the choice mode of transport in a city that sees its fair share of rainfall, being prepared for a shower or two is key. Biking is by far the quickest way to get around the city – especially in the rain as cars creak to a standstill and people pack into buses. If you've got the rain gear you won't have an excuse to stay in, you'll find that you beat traffic effortlessly, and arrive at your destination dry – and maybe a little smug.
A reliable waterproof coat and trousers that you can pull on over your jeans are must-haves, and make sure to have a watertight bag so the rain can't ruin your day. It's worth getting your hands on some waterproof protection spray for your kicks so they last a little longer, or some plastic booties to whip on and off your shoes so they stay dry. No one likes wet socks.
3. Accessorize your ride
Ready to be the niftiest rider out there? Panniers and carriers are a city e-bike rider's best friend. If you see something in a storefront that you fancy, or just have to stop off at the grocery store on the way home, you want to be able to make a pit stop. Our Small Pannier Bag snaps handily onto your bike's rear carrier, and is the perfect size for your everyday essentials, plus some extras. It's even got a shoulder strap so you can move effortlessly to and from your bike and get on with your day. You'll be ready for whatever the weather throws your way, too: it's built to withstand extreme conditions and heavy rain. And our Front Carriers are as hard-working as they are good-looking, built from robust aluminum.
4. Warm, safe, and dry: how to store and secure your e-bike
Most of the time, you'll want to be out and about on your bike. So for everyday storage, we suggest storing your e-bike somewhere handy so you can unlock and ride in an instant. A bike storage or shed is preferable because an e-bike will prefer to stay dry and out of the elements as much as possible. Don't worry: your bike's electric components are watertight, so if you don't have sheltered storage available it's not a problem.

Leave your bike in as secure a location as possible to deter bike thieves, and lock it to somewhere like a bike rack where possible with a solid chain (we like the ABUS Chain Lock). But worrying about your bike at night is something we save our riders from with our Peace of Mind Theft guarantee. If the unthinkable happens, our Bike Hunters will hunt your bike down and recover it for you – if they can't, we'll replace your bike for free. So kick back and enjoy the ride: we'll take care of the rest.