It's time. Time to breathe new life into our streets. To revolutionize e-mobility and evolve with our cities. It's time to ride beyond what you thought an e-bike was capable of. Are you ready to go beyond?
Our city e-bikes redefined the bike lane. Now, with our very first high-speed e-bike, we're coming for the roads. The VanMoof V is currently in the engineering stage, with first deliveries expected to start by the end of 2022. But before we tell you all about how you can get your hands on the bike, let's get to know the latest addition to the fleet.
Going full throttle: a bike designed for speed, comfort, and long-distance riding
The VanMoof V might be the next step for e-mobility, but we certainly haven't forgotten our roots. So, what do we know about its features so far? To put it simply, this bike will be everything you love about riding, and then some. It'll be packed with our latest signature tech, including the renowned Turbo Boost, the Kick Lock for keyless locking, automatic gear shifting, and Theft Defense.

So your favorite features haven't been forgotten – phew. But what's new? Well, the VanMoof V will be optimized for faster riding. With two motors instead of one, the bike's dual motors will provide powerful acceleration and will allow riders to hit speeds up to 50 km/h. Think your city is too big to shrink? Think again. The VanMoof V will feature two-wheel drive, front and rear suspension, thicker tires, a new iconic frame design, and intelligent motor control to enhance traction for safety and performance. Integrated speed settings will keep you in check with country regulations for worry-free riding. And that's just the start. More specs and capabilities of the VanMoof V will be added as we work on bringing the bike to life – so keep an eye out.
"The speed, accessibility, and ease of the VanMoof V will push a bike-first future into view, making it capable of forcing a shift in the hierarchy on the roads."
Electric just got more electric: the new default for city mobility
We're always looking to make our cities less congested and polluted, and set a new precedent for how people choose to move around them. After all, our co-founders' dream back in 2009 was to share Dutch biking culture with the rest of the world. The speed, accessibility, and ease of the VanMoof V will push a bike-first future into view, making it capable of forcing a shift in the hierarchy on the roads. It will offer riders a true car or motorbike replacement for their everyday lives in cities and beyond. Primed to tackle new terrains and distances, the VanMoof V is one step ahead of the game; an answer to our ever-evolving mobility needs as our we and our urban spaces shift and change. And with a category-bending expected price of €3498/$3598/£2998/¥450,000, the VanMoof V makes high-speed e-bike traveling in cities and beyond more accessible than ever.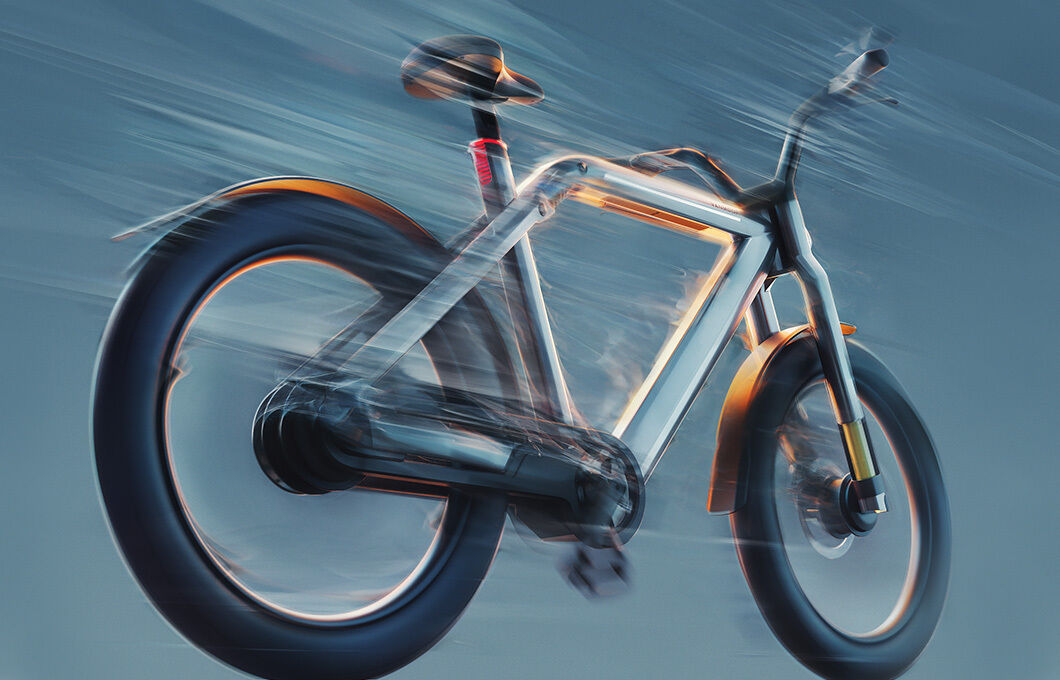 The future's got something for everyone
Remaining true to our innovative spirit, we're venturing into uncharted territory with the introduction of the VanMoof V. But why now? And why a high-speed bike? Well, as we continue on our mission to get the next billion on bikes, we're always trying to offer something undeniably better than what's out there. And if we're going to take up our place on the roads, the VanMoof V has to keep up. We've got work to do to truly and irreversibly reverse the world's car-first mentality, and believe that the VanMoof V will be a pretty persuasive advocate for the power of the e-bike.

The VanMoof V will sit alongside the VanMoof S3 & X3 as a viable option for riders who face longer commutes, live outside of the city, or just want to infuse their day-to-day with that extra lick of speed. Rather than replace our iconic city e-bikes, which have been built for the bike lane and designed to outsmart the city, this bike will help us to convince more people than ever that life's better on two wheels. And don't worry – we'll continue to evolve and perfect our inner-city e-bikes so there's always something for everyone.
Ready to join us on our wildest ride yet?

Are we ticking all your boxes? You can reserve your VanMoof V for €20/$20/£20/¥2500 today if you have an access code. If you haven't got your hands on a code just yet, you can sign up to the waitlist on our website to be in line for a code when we release more. Reserving the VanMoof V for €20/$20/£20/¥2500 means you can be one of the first to ride it when it's ready for the roads. Once your reservation is secured, we'll send you updates about the bike's progress as we bring the bike to life, so you'll be with us for the ride, start to finish. Excited? Us too.
Got a dozen burning questions? We've got you covered. Check out our VanMoof V FAQ page. Our next blog will cover the most frequently asked questions, so be sure to drop your questions below our latest social posts.

Read our FAQs
Already got your hands on an access code? Head over to our website to reserve your VanMoof V for €20/$20/£20/¥2500.

Reserve yours
If you haven't got an access code yet, join our access code waitlist.