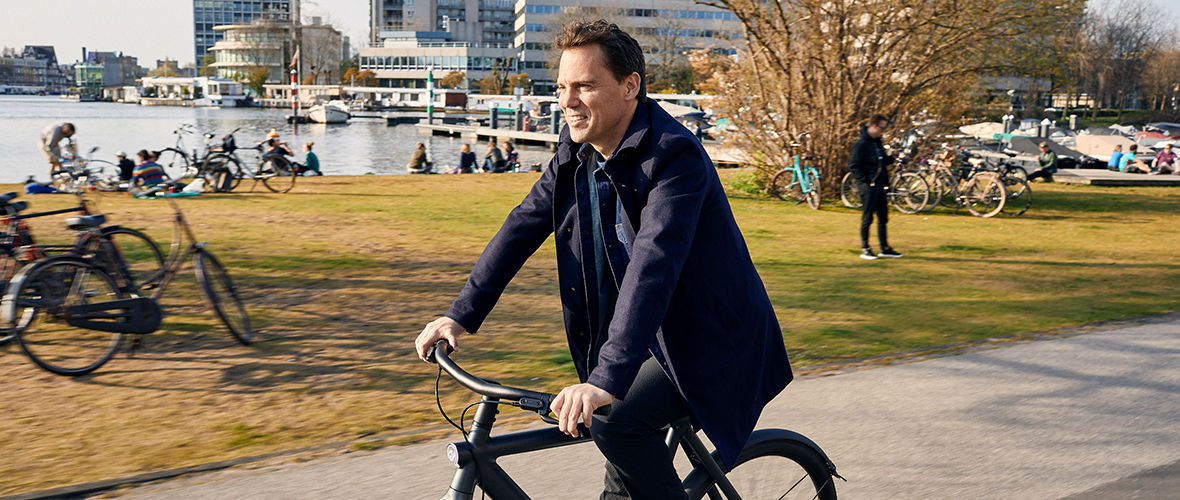 At the end of the day, bikes are just tools. With VanMoof, we give people the best tools we can, so they can make the future a better place. A future where people can get around town faster, smarter, and cleaner. But in the wake of COVID-19, this future is suddenly on our doorsteps. One of the real silver linings of our present situation is the upsurge in cycling, with a huge increase in e-bike usage around the world. Electric mobility is having its moment – it's our job to make sure it isn't a flash in the pan.
Rethinking the city
As people turn to bikes as their primary means of city transport, governments are racing to boost cycling legislation and infrastructure. We've always been convinced that bikes will replace cars on city roads, but I never thought it would happen so soon – a British medical journal is now calling for cars to be limited to 20mph in urban areas to account for the increase of cyclists.
Likewise, kilometers and kilometers of new cycle paths are quickly being laid down in Berlin, New York, and Milan. Britain is actively encouraging biking with the injection of a £250 million emergency active transport fund. And Paris has invested a staggering €300 million in its own city cycling infrastructure. It shows the knock-on effect of more people biking – more cycling space is required, and driving a car suddenly much less appealing. Just like that, a city becomes cleaner, safer, and greener.
"This is the beginning of a real revolution"

Of course, cities like Amsterdam and Copenhagen already have perfect biking infrastructure That's why over 40% of their residents commute by bike. But in areas where cycling isn't so effortless, thousands of new riders are discovering the power of e-bikes. This is the beginning of a real revolution. E-bikes are going to change our cities forever, making them greener and healthier for everyone. And it's so accessible – even without dedicated bike paths and a lifetime of cycling practice, a pedal-assist bike gives riders the confidence to bike farther and easier than ever before.

Building our future

It's crazy to think we predicted these things would've happened by 2030, and now real change is on our doorstep. But where do we go from here? What happens now our imagined future has become our present? And most importantly, how do we make sure we don't undo all this progress as soon as the COVID-19 pandemic ends?
The answer lies in people. Historically, people are always resistant to change. We're creatures of habit, and it can take an earth-shattering event to make us change our ways – even when we know we're stuck in the past. Now that event has happened, and people are realizing that their crisis-prompted solution is much better than what they had before. No more waiting in gridlocked traffic, no more piling into cramped commuter trains. While this lockdown has restricted many of the freedoms we took for granted, it's also introduced people to a freedom they didn't know they already had.
Similarly, COVID-19 has forced us to reassess the health implications of our transportation. Long after this virus has become a memory, people are going to be (rightly) skeptical of public transport from a health and hygiene perspective. Will you really want to share the breath-space of dozens of commuters, when you could be pedalling through the fresh air. And speaking of fresh air, we now see how quickly a reduction in cars can contribute to decreasing pollution levels. The climate emergency isn't going to go away, but I believe people will take greater responsibility for real change when they've seen how easy it can be.
"This lockdown has introduced people to a freedom they didn't know they already had"
Back in the present, it's our responsibility to make bikes which stand the test of time. It was a conscious decision to make the new VanMoof S3 & X3 our most accessible electric bikes yet. And this pandemic is proving just how valuable e-bikes can be, at every level of society. We have to keep making bikes that people want to ride, and that counteract the perceived barriers to cycling, so that they remain a positive alternative to cars and public transport.
'Ride the Future' has been one of our key messages for several years now. It's our way of sharing our vision of the world, of offering a better way for people to live their lives in cities. Despite the terrible effects of COVID-19, we can look upon our present situation with hope – the future is already here.