At VanMoof, we build bikes that bring the potential of the city within reach. And to make sure as many people as possible can experience all that their city has to offer, we need to provide a ride for everyone. That's why our fleet of e-bikes is growing with accessibility, reliability, and quality in laser focus. Feeling spoilt for choice? Here's how to choose between our electric bikes.
The key differences, in a nutshell
Before we dive into the details of the S4 & X4 and the S5 & A5, let's go over the basics when it comes to choosing between our current models. Would you class yourself as a bit of a tech-head or a die-hard e-biker? It sounds like the VanMoof S5 & A5 could be for you. Built for commuting and daily rides in a busy city, the S5 & A5 offers a feature-rich, next-level riding experience. Revolutionary, industry-first tech defines this model: every feature, from the LED Halo Ring handlebar display to the torque sensor, has been refined to create a truly seamless, integrated, and effortless ride. The S5 & A5 is on sale for €3,498.

Remember when you first learned to ride a bike? It didn't matter where you were going – you'd just ride. Well, if it's the pure, uncomplicated joy of riding electric you're into, you'll love the brand-new VanMoof S4 & X4. Equipped with signature, rider-favorite tech and in four colors, the S4 & X4 open up a world of possibility. So, if you want to ride for the fun of it, use your bike daily for fast, buzzing rides through the city – and look dangerously good while doing it – this is the model for you. The S4 & X4 is on sale for €2,198.
The beautifully uncomplicated VanMoof S4 & X4
You called out for a ride that offered the very best of our technological innovation in a simple, accessible, and reliable form. So, we listened, and got to work. On May 9, we revealed the new VanMoof S4 & X4 – our beautifully uncomplicated e-bikes. The S4 & X4 feature automatic 2-speed gear shifting, an integrated, extra-robust Kick Lock, a built-in phone mount for dashboard navigation, our signature Turbo Boost, and built-in anti-theft tech. Oh, and this ride comes in four vibrant colors: Evergreen, Sunbeam Yellow, Purple Fog, and Foam Green. Dive further into the details here.

But which frame? Well, with thicker tires, and an award-winning straight frame design the S4 is built for riders 170-210 cm tall. Prefer the maneuverability of being a little closer to the roads? The VanMoof X4's compact wheels and agile handling makes speedy inner-city rides a breeze. The X4 is loaded with all the same iconic tech and features as the S4, but is optimized for riders 155-190 cm.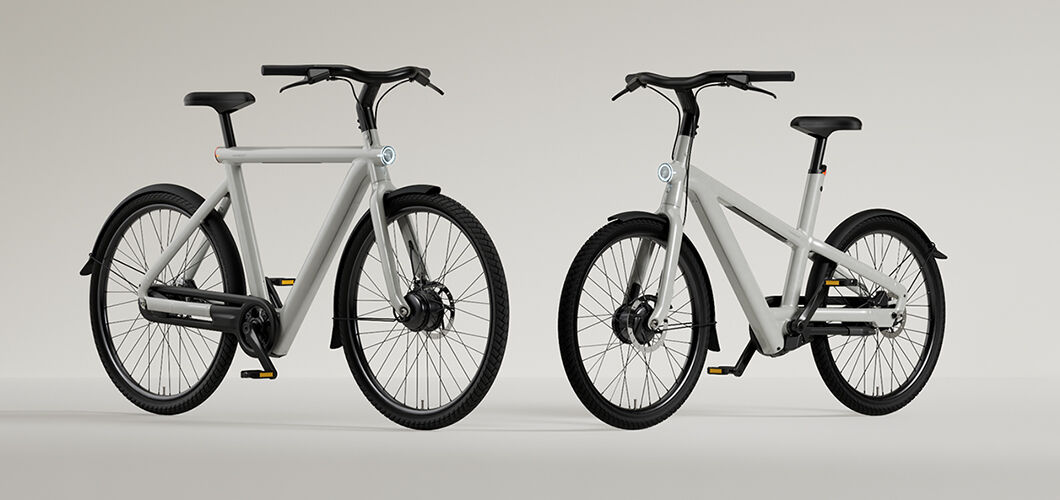 Revolution, built in: The next-gen VanMoof S5 & A5
Packed with the latest unique VanMoof tech, our most technologically advanced generation of e-bikes set the standard for riders worldwide. Launched in April last year with 231 new custom-designed parts, this ride marked a leap forward in e-bike innovation. An LED Halo Ring Interface is integrated into the handlebars to provide riders with feedback on their speed, battery levels, and connectedness. These bikes come equipped with a near-silent 250W Gen 5 Motor and intuitive power system; a torque sensor; a Gen 5 E-shifter; a 68 Nm torque Turbo Boost; and a revamped Kick Lock. Dive further into the next-level specs and features of the 5-Series here.

When it comes to choosing your frame, it's all about the look and feel. The S5 is a continuation of the unmistakable VanMoof straight frame with refreshed geometry and smaller wheels – perfect for controlled cruising and longer rides. The A5 is our lowest step-in frame yet, built for riders 155-200 cm. Both models come equipped with the same revolutionary tech and features.