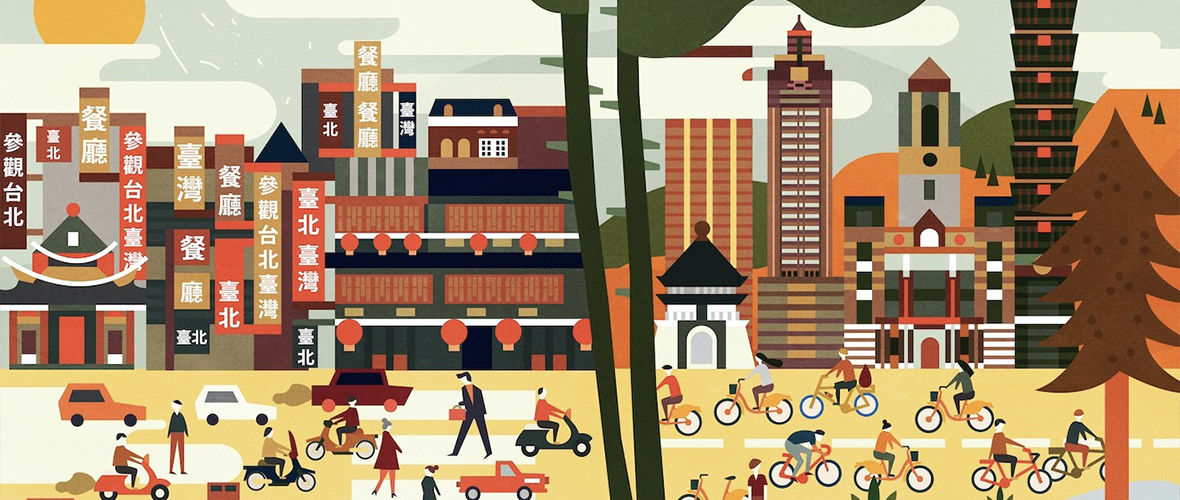 Anyone who has lived abroad knows them well — those unexpected moments of culture shock, when, out of nowhere, some seemingly trivial encounter smacks you in the face with the unavoidable reality: You are not from here, foreigner.
I still remember how bewildered and humiliated I felt when, a week or so after I'd moved to Berlin, a brusque supermarket cashier hissed at me to move away — ignorant me didn't know that Germans don't pack up their groceries at the checkout area, but further back at a separate counter. And the first time I saw German kids on bikes, it blew my mind. Little sprats barely higher than my knee, they were zipping fearlessly all over the sidewalk on their two-wheelers like they owned the place.
Around where I live in Berlin, elementary schools have jam-packed bike racks, since so many pupils cycle from home every day. My jaw dropped when a colleague told me that over the weekend, he'd sent his youngest, just six years old, to bike on his own to the nearby bakery to pick up fresh rolls for the family's breakfast.
Where I come from, kids and bikes are not such fast friends. When I was growing up in Taipei, my parents drilled it into me that nowhere was more dangerous than our city's roads. As if the erratic, speed-demon taxi drivers weren't enough, there were also the motorbikes — hordes of buzzing, maniacal scooters that wove in and out of traffic and went wherever they wanted: onto sidewalks, through red lights, across busy crosswalks, the wrong way down one-way alleys. Just being a pedestrian was risky enough — no way were my parents going to let me venture by bicycle onto the city's chaotic roads.
So the squeaky tricycle I had when I was little never went beyond our concrete driveway. Sometime after we moved to a gated compound, I graduated to a proper bike — equipped with a trusty set of training wheels. For years, I whined, wheedled, and pleaded anytime my dad suggested taking them off. Maybe my fear of traffic dangers had something to do with it or maybe I'm just a chicken. At any rate, I was at least ten by the time I finally learned to ride a two-wheeler — the result of training wheel shame more than anything. But my wariness of bikes remained.
My fear meant I never experienced the thrilling freedom of venturing off on my own, powered by nothing but my own two feet and driven by my curiosity. I never got to revel in the sensation of the wind whipping my hair as I coasted down a hill, heart pounding in my chest. That would only come much later.
My own set of wheels
At age thirteen, I left Taiwan for Canada, but even there, the safer, more cycling-friendly streets could never entice me to get a bike of my own.
As the years went by, the moments of culture shock ebbed away as Canada started to feel like home. But before I could get too comfortable, I uprooted and moved to Berlin in my mid-20s. On this strange, new turf, it wasn't just gutsy little toddlers who enjoyed cycling — it was everyone, it seemed. Grey-haired grannies cycled home from the market, baskets brimming with sacks of potatoes and fresh flowers. Local hipsters coasted coolly along the bike lanes, looking enviably stylist on their smart Dutch bikes or sleek vintage frames. As I slowly made friends, they inevitably wanted to meet up on bikes and pedal to the bar or park or club together.
It didn't take long before I caved to the peer pressure. My first Berlin bike was a junky, clunky, second-hand thing with a forest-green frame, complete with dented fenders and dodgy brakes. It was heavy, squeaky, the lights didn't work, and the chain decided to spontaneously fall off more than once. I loved it.
I loved the freedom, the feeling that my feet could take me anywhere I wanted to go, with so much to see and discover along the way. I quickly realized there was no better way to get to know the sprawling and complicated city of Berlin than on one's own two wheels. Motivated by a lack of money and an excess of time to spare, I biked anywhere and everywhere, even throughout that first long, dark winter. This new city I was trying to make into a home, so hardened and impenetrable on first glance, unfolded before me.
Homecoming
Leaving the place you come from changes a person. Living in a foreign place, acclimatizing to the quirks and customs of a new culture — it feels strange at first, then it becomes habit, and then those things just become a part of you, layered on top of your former self, a hybrid of the past and the present. It's the story of countless families and generations of migration and diaspora.

After seven years of living in Berlin, I went back to my hometown of Taipei for the first time in a very long time. By then I was in my 30s, and had spent more than half my life away from the place that shaped me and gave me my earliest, deepest memories. To say I was anxiety-ridden would be an understatement. It felt like I was about to reunite with a long-lost family member. Would they accept the new, changed me? Would we even recognize each other?

I recognized my Taipei, of course. It was still there, the smells and sounds and tastes I remembered so clearly, though I was also struck by how much the city had grown up and evolved. Most impressive of all was how clean and cosmopolitan Taipei had become. The city now had a pristine and dazzlingly efficient MRT transit system that puts Berlin's U-Bahn network to shame. My childhood memories recalled Taipei as a place of smog, car exhaust, litter. Now I found a world-class city with tidy new parks, clean-swept sidewalks, public recycling bins, and – wonder of wonders — bike lanes everywhere.
This is no coincidence — Taipei's Department of Transportation has made cycling a major priority, I later learned, thanks in part to the advocacy of the Cycling Lifestyle Foundation, an initiative from Taiwanese bike manufacturer Giant. Government officials traveled to the Netherlands to learn from that country's success in implementing urban cycling infrastructure.
Last year, Taipei launched itself onto the world stage by hosting the 2016 Velo-city conference, a forum organized by the European Cyclists' Federation that brings together influential global players pushing governments for pro-cycling policies.
In his presentation at Velo-city, Taipei Deputy Mayor Charles Lin announced the goal to increase the percentage of city traffic conducted by bicycle from 7 percent up to 12 percent by 2020. His office doesn't need further convincing of cycling's role in creating a more sustainable and liveable city: plans are already in place to construct 190 km of dedicated bike lanes in the city center by 2019. That's in addition to the scenic 110-km-long bikeway that already runs alongside the city's riverbanks and the 300+ km of sidewalks designated as shared pedestrian and bike lanes.
These lanes have been a success, often filled with cyclists riding cheery orange and yellow YouBikes, a bike-sharing network that is far more extensive, well-organized, and easy to use than similar endeavors in Berlin. Today's count puts nearly 8,000 YouBikes all over the city at more than 230 bike stations, and the network is still growing. A tap of the transit system's smartcard ticket is all it takes to unlock one and be off on your way for just 10 NT (less than €0.30) per half-hour. It boasts the highest turnover of all the world's bike-sharing networks, at more than eight uses per bike per day. One poll found that 31 percent of YouBike users switched from motorbikes to cycling, and 4.4 percent switched from cars.
Since that first trip back I've been visiting Taipei much more frequently, now that I know the place I left behind as a teenager still feels like home despite all the years that have passed. When I visit, I can hop on a bike and head for the beautiful riverside bikeway or maybe just my favorite shaved ice shop, discovering the new and old sides of Taipei along the journey – the same way I got to know Berlin 10 years ago. We've both changed and grown up, Taipei and I, but as it turns out, we still fit together.