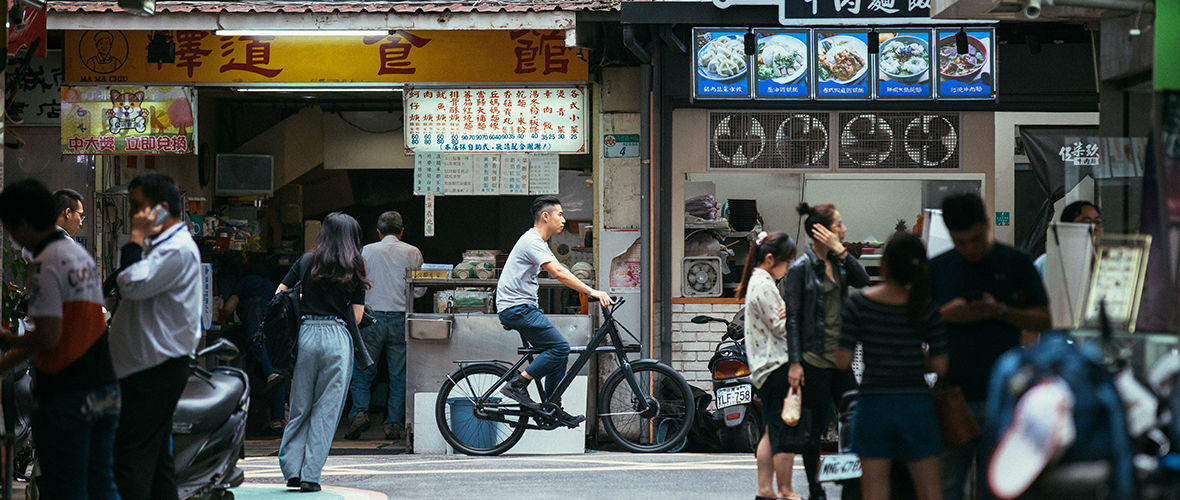 As Taipei's first Bike Doctor, David Lin knows VanMoof's history inside out. But he's already looking to the future – and putting our latest prototypes through their paces.
I joined VanMoof as the first Taipei Bike Doctor, but my role and responsibilities have evolved really quickly. Now I'm working with our R&D team here, helping to assemble and test prototype parts, and strengthening our quality control processes.
After I finished my military service, I went on a bike tour around Taiwan with friends. That was when I realized that I wanted to work with bicycles. My brother told me that a bike is already one of the most high-tech things in the world – you don't need fuel, it lasts forever, and it can take you anywhere.
I've always liked trying new things, and seeing how they work. I'd worked in 'normal' bike shops before, selling and servicing Taiwanese bikes. It was fine, but every day was exactly the same. That's partly what attracted me to VanMoof; we're doing something completely new here. It's a city bike, but it's not just a city bike – there's a lot more going on beneath the surface.
It's not enough to just have an idea, we need to make those ideas work. The team here is so agile that we can produce prototypes really quickly. Someone drafts a concept for a new component, and we can be riding it within a week. And I can see my feedback coming to life every step of the way.
We take a very hands-on approach to quality control. As well as servicing bikes for our Taipei riders, It's my job to get out there and find potential issues before they become a problem. Our manufacturing is based in Taiwan, so I can go direct to the source and make sure everything's running perfectly.
I take the job really personally – I don't want our riders to be sitting around waiting for an issue to be fixed. Quality control is all about problem-solving, you have to think logically to isolate the issue, and then work backward to identify the cause.
In the future, I'd like to get more involved with the design and engineering side of the company. As VanMoof grows faster and further, it's super-important that riders can depend on our bikes, no matter what.
Learn more about the revolutionary Electrified S2 & X2 on the VanMoof website. Want to ride with us? Visit our Jobs Page to see all current opportunities.