Annelies works in business development at a Bay Area tech company. Commuting on her Electrified S2 might take more time than by car, but Annelies think the extra benefits more than make up for it. We joined her on her daily ride through Palo Alto to find out why.
You're Dutch, but you've been living abroad for a long time. Do you still believe in the Dutch style of commuting?
Well, I'm not commuting by bike every day. I'd been riding a scooter here for almost a year before a friend introduced me to VanMoof. I never thought I'd like an electric bike, but when I tested it out on the San Francisco hills I was sold.
I choose to bike or drive depending on if I have to visit the airport during my workday. Riding the S2 doesn't necessarily make my commute shorter, but it's way more enjoyable. There's much less hassle, and I like to be outside, so that's a big advantage.

"I saw how easy it was to get up hills with the Turbo Boost, and that was it."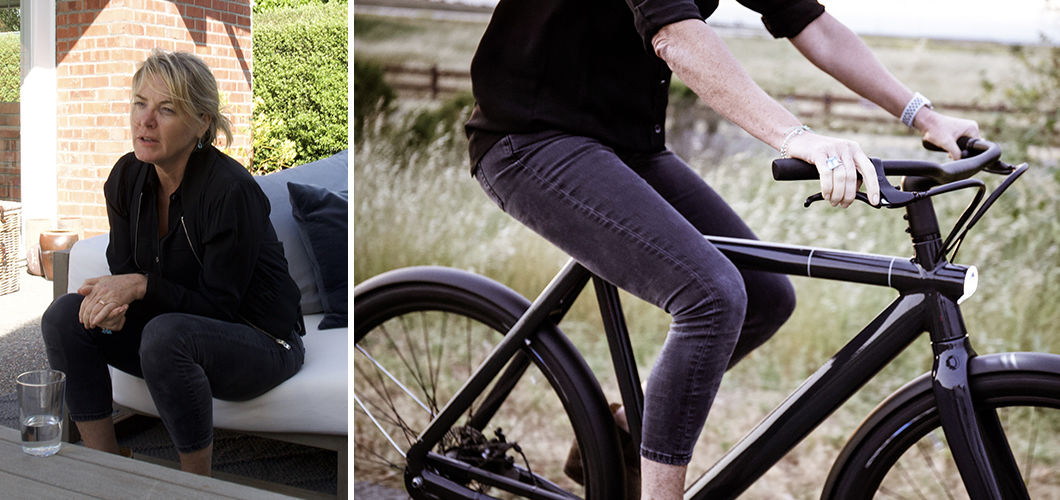 Why didn't you make the switch to an e-bike sooner?

I was originally quite biased toward electric bikes, I thought it was for people that didn't want to put in the effort or didn't want to do any exercise.
That's why I love that the S2 doesn't look like a regular e-bike – I don't feel like I'm cheating. If there was a big battery stuck to the frame, I wouldn't find it so appealing. Also, I really, really love the Turbo Boost.
For me, the S2 isn't a 'future' bike, but a bike which uses clever tech to help me right now. It's an integrated bike, combining smart features, simple design and ease of use.

"I love that I can adjust the power level – it's all about being in control."
How do you see mobility changing here in the Bay Area?

There are a lot of curious people around here, always looking for the latest technology to make life easier. You see that in their mobility choices, and the whole landscape has changed over the last decade. Owning a big car used to be a status symbol. But now, not owning a car or only driving a hybrid is what you're 'supposed to do'.

Above all, people want choice. We don't want to buy a really expensive car, and then feel that we have to use it every day to get our money's worth. You should be able to pick your transportation based on whatever is relevant or convenient for you that day. And more often than not, I'll choose to ride my Electrified.
Annelies is riding a Thunder Gray Electrified S2.