In September last year, VanMoof's Taco and Ties Carlier shared their strategy for how, as founders of the world's fastest-growing e-bike brand, they planned to tackle their biggest challenges, outlining concrete ways in which we were improving for our riders. Almost a year later, we're revisiting our promise.
At VanMoof, we see ourselves as a work in progress. We're always looking for new ways to improve, and our emphasis on continual evolution across everything from product design to aftercare challenges us to always look towards the future. But that also means it's crucial that we set ourselves achievable goals, and stick to our promises as we map the next milestones on our mission to get the next billion on bikes. In September 2020, we pledged to make our in-app support more intuitive; improve our customer support; make our maintenance services more accessible to more riders; launch a Bike Doctor network; and improve our end-to-end quality control. And we have good news to share – we've worked hard to fulfill our goals and are getting more people on bikes than ever. A deal's a deal, right?
An ace up our sleeve: adapting to the unpredictable

In 2020, we were faced with our greatest challenge yet: an explosive demand for e-bikes during a tumultuous pandemic. And the effects of COVID-19 on global logistics and supply was only the beginning of the disruptions. In 2021, container shortages, blocked harbors, and havoc on the Suez canal caused additional unforeseen delays and challenges to us at VanMoof, but also to our rider base. We knew we had to act fast. And we had an ace up our sleeve: our unconventional business model in which we have control over our supply chain. Our in-house everything set-up allows us to quickly identify, evaluate, and adjust to even the most damaging disruptions. And while the saga of the Ever Given finally came to a conclusion, we'd long since made preparations to minimize the knock-on effects for our riders.
To make sure our escalating number of orders were shipped in weeks, not months, we had to boost our production capacity. And that's exactly what we did. How? We'll give you the quick and dirty. Because we design every component from scratch ourselves, we're able to scale up quickly at any moment. We're less dependent on third party vendors to supply us with spare parts, which meant that unlike many of our counterparts, we were able to receive parts fast. Just last month, despite the continuing disruption caused by the Ever Given, we delivered over 2,000 bikes in a week – that's more bikes than any other month in VanMoof's history. To put that in perspective, not so long ago we didn't ship out that number of e-bikes in an entire year.
For those who are waiting for a VanMoof X3 – we're sorry you're still facing delays. While we're excited that more people than ever are choosing e-bikes, our industry has come under extra pressure. The universally high demand for the raw materials we need, and the shipping disruptions delaying their arrival has inevitably slowed down our production. We understand how frustrating it can be to experience delays, and we're adapting as quickly as we can to our industry's radically shifting business landscape. We have made the production of our VanMoof X3 a priority, and expect their lead times to be in line with the VanMoof S3 by the end of the year.

Service solutions at your fingertips

Good service is the cornerstone to our ethos at VanMoof. And with a third of our $40 million investment allocated to elevating the rider experience, we've come a long way in just over half a year. In September, we committed to integrating more intuitive support in the VanMoof app. And now we've launched our troubleshooting tool in My VanMoof to allow riders to find quick fixes and self-help solutions, so the solutions to the most frequently encountered problems are now right at their fingertips. The tool also makes it easier for riders to book their own appointments in any of our service locations due to open across 50 cities worldwide, including Brand Stores, Service Hubs, and certified workshops.
There's no two-wheeled revolution without happy riders. So, we've powered up our Customer Support team to make sure we have the best people onboard to help us manage our ambitious growth plans for the years ahead. And to further cut down on current waiting times, we've launched our Chat support channel, so our European-based riders can reach us faster and more easily. While our Chat channel is only five weeks old, we've got our response time down from nearly four minutes, to under two minutes. And we're committed to quickly reducing the wait to 60 seconds to make online support an even more seamless experience for our riders.
To succeed in our mission to get the next billion on bikes, we're working on becoming more accessible to different riders, wherever they are in the world. And, tapping into our in-house everything honeypot, we're quickly scaling up our Support operations on the ground across the world. Our rider community is growing, and growing fast. So, to make sure you can access our services faster and easier than ever, we're expanding our service footprint from 8 to 50 cities worldwide.
To make sure you're never off the road for long, we've opened Service Hubs that offer support of every kind – from tune-ups and test rides, to faster-than-ever repairs – and partnered with independent bike shops so you can get help in your local area. So far, 27 cities are live, with many more to follow in the next three weeks. We've opened seven new Service Hubs, and 14 of 68 certified workshop locations so far, primarily in our most densely rider-populated regions of the Netherlands and Germany. Our goal in each new location? To foster a strong personal connection with the local community. The interiors of our Service Hubs were specifically designed for this purpose: the furniture and features are fully flexible so we can cater to the needs of the local community.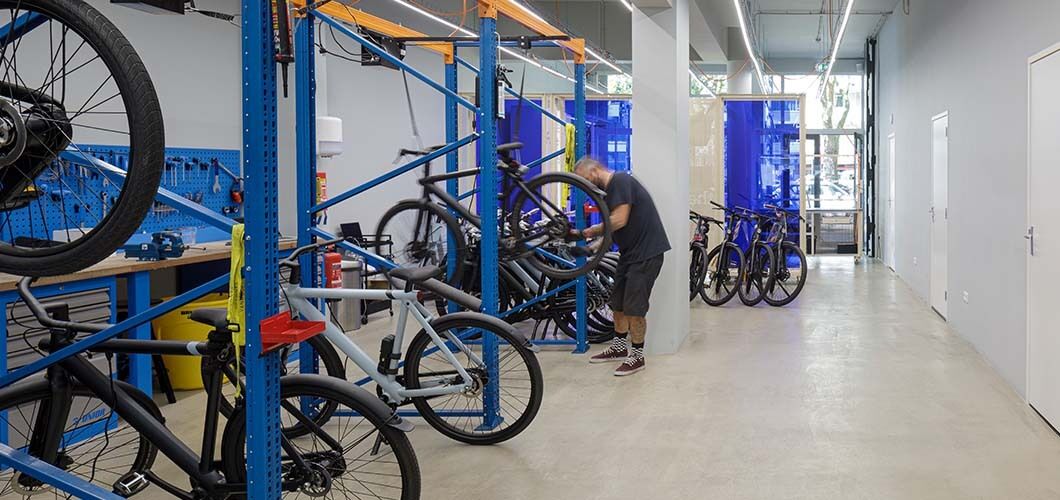 We've made good progress on the targets we set ourselves last year. So, to keep us on our toes, and our riders riding on, we're setting ourselves five more concrete goals for how we can improve for our ever-growing community. And we'll keep you updated on our progress – because when we ride the future, we ride it together.

Five ways we'll improve:
We'll continuously push the boundaries to better our product quality and supply.
We'll increase the speed at which we can provide over-the-air updates to further improve our product.
We'll continue to build out our Chat Support experience for our riders worldwide.
We'll open seven more servicing locations across our 50 cities by the end of 2021 and build a strong community presence in each of our Service Hub cities so our riders know we're there for them.
We'll increase the availability of our Bike Doctors across our 50 cities.
Do you need help? Check out our Support page to find a solution for everything from punctured tires, to test ride appointments.