Cities & Cycling
Start making space for people, not cars: reimagining Berlin's bike-friendly future with urban planner Tom Meiser.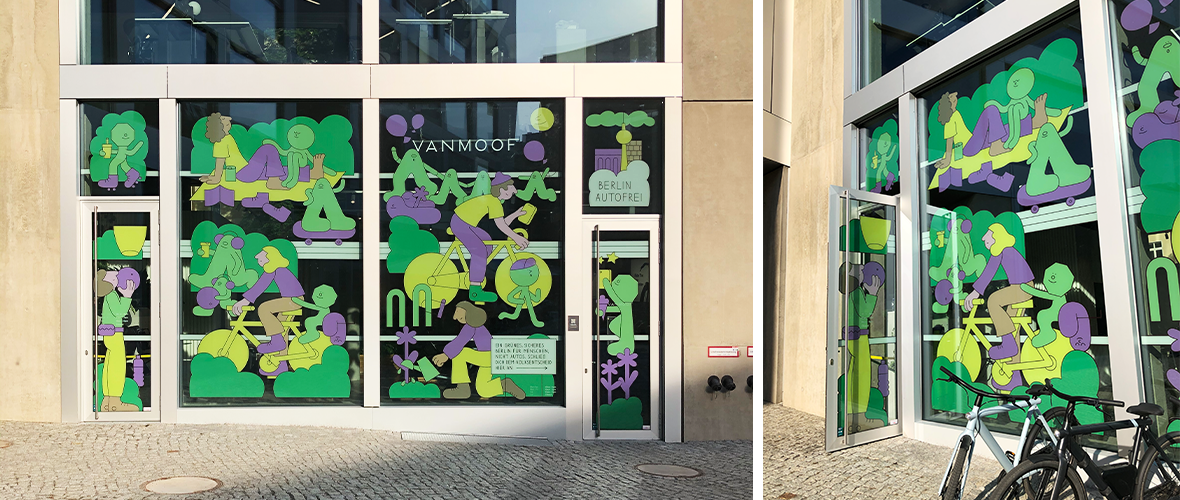 In late May this year, we supported the Berlin Autofrei initiative which campaigns to transform Berlin's streets within the S-Bahn-Ring into car-reduced spaces. To inspire our Berlin-based riders to sign the petition, we teamed up with artist Martina Paukova to illustrate a vibrantly colorful imagining of Berlin as a biketopia on our Brand Store windows. We spread the word, and hundreds of VanMoof riders signed the petition. While Berlin Autofrei is busy counting up the first round of the 195,000 total signatures needed to force a referendum, we're taking the next step to help bring their ideas that reclaim Berlin's space for people, not cars, to life.
We've partnered with Berlin-based urban planner and sustainability specialist Tom Meiser, who plays a key role in the Berlin Autofrei initiative, to imagine tangible mobility solutions for the inner city of Berlin. Together with Tom, we've transformed five key traffic points into car-reduced, safe, and community-centric spaces to cater to the already shifting behavior patterns in Berlin, and paint a vivid picture of the endless possibilities for the city center.

The solution in sorting safer streets

So, how do we encourage more people to bike? At VanMoof, we believe the solution lies in creating the best riding experience possible in cities across the world. But to achieve a truly long-lasting urban mobility revolution, legislators must provide city-dwellers with safe and crucial infrastructure. Our own data collected in collaboration with YouGov shows that cyclists in Berlin don't feel safe riding in their city. While the number of cyclists on Berlin's streets increased by 22% over the pandemic, the number of cycling casualties increased nearly threefold. The data speaks for itself. A lack of safe spaces and necessary infrastructure for riders is dangerous and in need of urgent addressing.
The Torstraße 42
The Torstraße 42, home to our VanMoof Brand Store, is just one area of Berlin that could benefit from a radical redesign. It's currently a loud, congested six-lane road that's the site of multiple accidents involving cyclists due to the absence of cycling infrastructure. Not tempted to ride down the Torstraße? We don't blame you. Tom's render splits up the road with a middle lane exclusively for public transport and taxis, and a segregated red bike lane to protect cyclists and minimise traffic conflicts. A green line for trees, flower beds, bike racks, and power plugs provides the necessary space and infrastructure for riders and pedestrians alike. Public life here becomes central, rather than sidelined in favor of cars. Phew. That's better.

The Rosenthaler Platz

The Rosenthaler Platz is a five-road intersection with no cycling infrastructure in place – one of the most dangerous roads for cyclists. Tom's solution – which envisages a color coded bike roundabout to segregate it from the road and protected pedestrian crossings – embraces the potential for a safer, more inclusive and diverse public space. Picture a pedestrianized market square in its center, where you could sit under the shade of a tree while sipping your morning coffee. It's too good an opportunity to miss.
Torstraße/Friedrichstraße

The Torstraße/Friedrichstraße crossing is an equally dangerous spot for cyclists. This could be quickly resolved by constructing color coding cycling lanes and well-established pavements and pedestrian crossings. These areas would be unsealed, which together with more greenery would help to reduce the urban heat island effect, where dense concentrations of concrete absorb and re-emit the sun's heat driving greenhouse emissions and pollution levels.

Freeing up space for city-dwellers
The space in our cities is finite. So why are we giving a disproportionate amount of it over to cars? The first hurdle remains clear: changing people's attitudes towards the usage of our valuable public space. Berlin, including Spandau, Wittenau, and Köpenick is 891 km². Of that area, 135 km² belongs to car traffic. That's more than the entire area of Charlottenburg-Wilmersdorf, Mitte and Friedrichshain Kreuzberg put together. Surely that area could be put to better use?

And while 60% of Berlin's streets are designed for cars, just 3% is dedicated to bikes. That must align with the usage of each mode of transport, right? Wrong. In Berlin overall, 30% of commutes are made by car, and 15% by bike. In the S-Bahn-Ring however (an area of 81 km²) the statistics are far more balanced: 17% of commutes are made by car and 18% by bikes. Behavioral changes in the capital's inner city spaces suggest that Berliners have already made a significant behavioral shift. People are poised for change. Berlin Autofrei's proposals for greener, car-free inner city spaces answer a call that's already been made. So what are we waiting for?
Alte Schönhauser Straße
The Alte Schönhauser Straße today is a lively part of the old town in Berlin Mitte – the popular shopping area is bustling with pedestrians keen to grab a coffee at a café or stop by a local store. So this begs the question: why are the already narrow roads dominated by parked cars? Tom's reimagining makes the most of its existing potential: clearing the area completely of cars, and freeing up space for pedestrians would not only make it safer, but also allow local businesses to make use of the renewed space and flourish.

And if more space didn't convince you, how about less time wasted in traffic jams and more time spent riding? On average, every Berliner spends 80 minutes in traffic a day, despite the average car journey spanning six kilometers and taking 23 minutes. Our data shows that these journeys are far more suited to e-bikes, cutting commute times down to just over 17 traffic jam-free minutes.

Brandenburger Tor
If drivers get a highway, why shouldn't we? Berlin's biggest most popular park, the Tiergarten is home to the city's most precious diversity. Brandenburger Tor is a large highway with a very narrow and exposed bike lane currently tearing through the park. But picture this: a protected cycling highway spanning from Moabit towards the city center and back that would make inner-city commutes even easier. Tom's redesign offers cyclists, pedestrians, public transport, and cars an equal share of the space, and a tree line in the middle restores a level of biodiversity between the two parts of the park.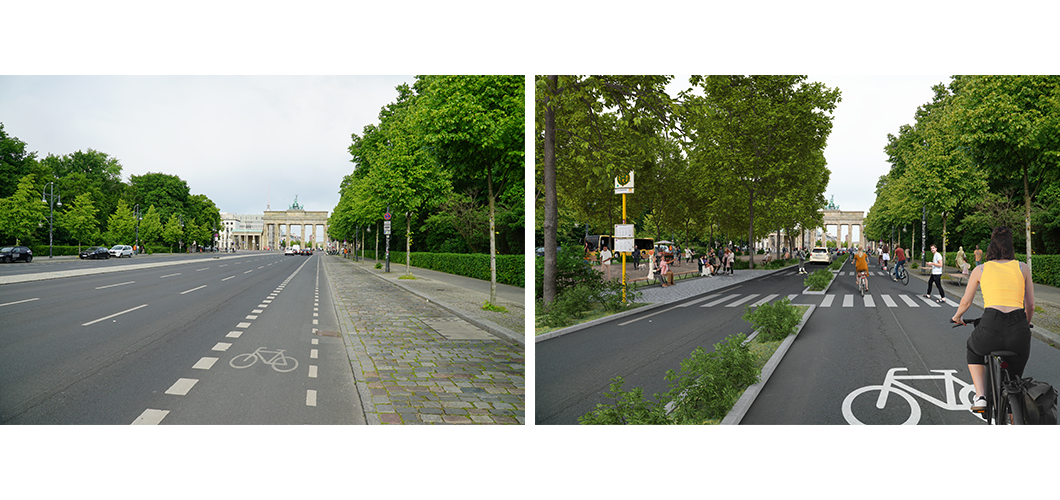 The way forward is clear: it's time we get comfortable with the thought of leaving cars behind. As Tom's renders illustrate, there are countless benefits that evolve from each practical mobility solution in Berlin's S-Bahn-Ring – whether that's safer spaces for cyclists, diversified and higher-value public space, or more greenery to counter overheating. Ultimately, moving towards the future means we need to stop making excuses and start making space.