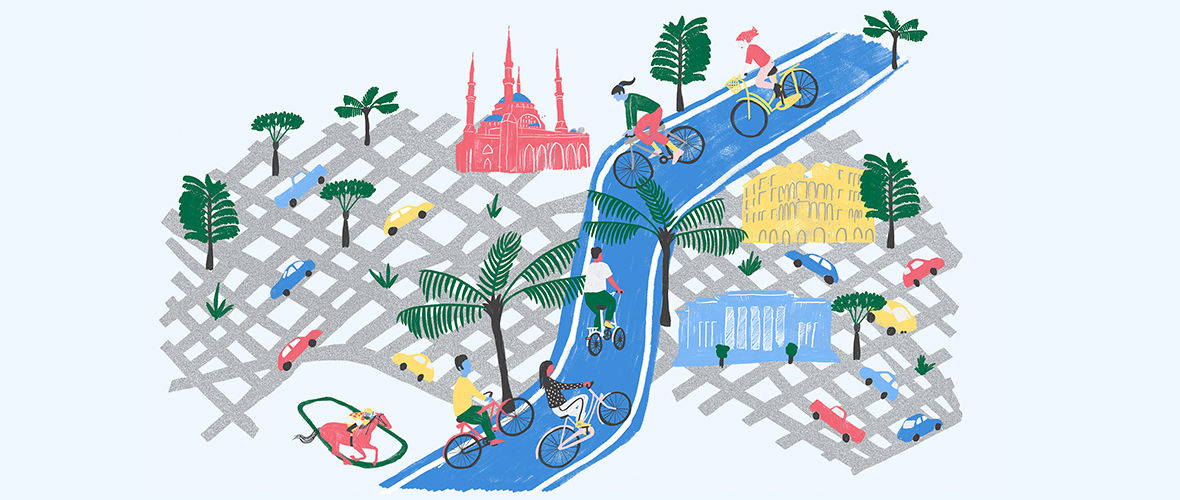 Cycling in Beirut is a precarious, possibly life-threatening undertaking. Trust me, I've tried.
For three hot summer months, I got on my bike every morning near the American University of Beirut and cycled across town to the urban planning office where I was interning at the time. The 3 km journey (peanuts, right?) was jam-packed with all sorts of obscure obstacles and adrenaline-surging surprises. My personal favorite was the dark — and I mean totally pitch-black — highway tunnel that I had to pass through to get to the office.

I'd take a deep breath before entering and tried to keep my cool as I manoeuvred my way in between zigzagging scooters (no helmets), cursing taxi drivers (no manners), and heavy, soot-spewing construction trucks (no brakes?!). And all of that, of course, without a cycling lane in sight.
I had decided to cycle to work every day as a sort of learning experience. Although I grew up in Beirut and knew most of its streets inside-out, I had no idea what it was like to cycle through them. That summer, I figured it would be a good idea to change that.
We were, after all, designing Beirut's first cycling lane.
The city

Beirut is a difficult city to describe without falling into one-sided clichés. I like to think of it as a beautiful, many-faced monster. From a safe distance, she's endlessly intriguing and full of wonders. If you get too close, however, one of her many, many faces might just lurch itself at you and take a noticeable bite out of your comfortable reality. Only those with the patience and backbone to spend enough time with her can learn to tame her madness (or numb themselves). And only then can you really begin to understand what the city is all about it.

This has a lot to do with the way different parts of the city relate to each other. Like a mosaic, Beiruti neighbourhoods lie side-by-side and together form a "whole"; but they do so without coming into any real contact with one another. Separated by roads and decades of (un)civil conflicts, the people in these neighbourhoods often live in parallel worlds. Many will go out of their way to avoid particular areas in the city, and the urban landscape is littered with bullet-holed concrete skeletons that continue to testify to the violence that passed and the tension that still lingers.

The perfect place for a cycling lane. Right?

According to a group of French urban planners, it was and still is. The team working at Région Ile-de-France, a French institution with a long history of sponsoring urban developments projects in the city, envisioned a liaison douce, a "slow traffic link" including a cycling lane, that would run through the city's north-south axis. After a shortlisting and bidding process among Lebanese firms, URBI Architects & Planners (the firm where I was interning) was selected to begin designing the lane and the surrounding areas.
"The importance of this project went far beyond creating the first cycling lane," Antoine Kreidy, lead architect at URBI, told me. I interviewed him about the project since I was only involved for one of the many hot summers and because I'm curious to hear about the current status of the project, six years later.
From the start, the project was about creating new public spaces in a city torn by conflict.
Antoine told me that the route chosen for this cycling lane was no coincidence. The route was intentionally drawn to trace the infamous Green Line that divided Beirut during the Lebanese Civil War (1975-1990). This demarcation line was a no-man's land in between warring sections of the city and served as a cross-over point for separated families and friends.
Today, it continues to be one of the strongest mental borders in the minds of many Beirutis. Of course, it doesn't help that most of the route is currently clogged-up by multiple lanes of the same scooters, taxis, and trucks that spoiled my summer, too. Wartime memories or not, this is not a place you go to spend your free time on a sunny afternoon.
Antoine continued, "From the start, the project was about creating new public spaces in a city torn by conflict; spaces that could facilitate interaction and dialogue between divided groups in the city. The cycling lane and everything what will be designed and built around it was a way to accomplish all that."
Besides tracing the Green Line, the route also connects many cultural and public institutions in the city, including several theaters, three museums, a university campus, and the city's only large park Horsh Beirut. Through the design of a safe and welcoming space for pedestrians and cyclists, the team at URBI hoped to create possibilities for people from all sides of the Green Line to meet each other and perhaps make a first step in processing the violence that was exchanged between the two sides.
As part of the preliminary design phase, we conducted more than two hundred surveys with people living along the route. Responses to our (mind-blowing) renderings were mixed. Some people were thrilled at the idea of a safe route to cycle and a green, well-designed public space for their kids to play in.
Others thought the idea was fine, they just didn't believe it would ever get built. And then there were those who really didn't see the point of the project, who were actually quite content with the way things were. I distinctly remember one man telling us, as we were sitting in his living room adorned with faded family photographs and with the heavy buzz of a fan overhead, that he and his family were quite happy being divided from "the other side." The tall office buildings across the street "were the perfect buffer for snipers", apparently.
We went back to the drawing boards and spent the rest of the summer incorporating all of this feedback — minus the snipers. The summer ended, I went back to architecture school, and the team at URBI continued to work hard to put together an ambitious-yet-feasible proposal. After months of research and studies in collaboration with external traffic consultants, the preliminary design was presented to Région Ile-de-France and the Beirut Municipality in October 2013.
And now?

"So, Toni, what now? Why hasn't the lane been built yet?" I managed to get my question across the internet in one piece, a small miracle considering the fact that besides cycling lanes, Lebanon could also do with a serious internet upgrade.
I detected a sly smile on Antoine's pixelated face, "What do you think…?"
Bureaucracy, of course. That great ole game-of-thrones-and-pockets. I should've known.
Antoine launched into a tirade of names and official titles of people who are, to put it bluntly, making his life a cycling hell. Mr. so-and-so at the bla-bla-bla office who wants this-that-and-the-other before approving the project. The committee-of-so-and-so who keep repeating the same bla-bla-bla excuse about this-that-and-the-other bogus law in order to avoid spending a single Lebanese lira.
The list is long and obscure and I can hardly follow how it all fits together. But that's, of course, exactly how bureaucracy works.
What it boils down to is that since submitting the project (in 2013!) Antoine has spent a considerable part of the last six years chasing the paperwork around various government offices. After almost giving up, hope returned in 2015 with the arrival of a new Beirut City Governor, and a changing of the guards at the municipal office in 2016. Fresh blood in the decision chambers meant new possibilities for this project, and the atmosphere was — and still is — positive.
"It's a very slow process, but I'm optimistic. I think we will get a go-ahead and be ready to implement by 2020."
A lot is happening in Beirut on the cycling front — change is coming, slowly and in small steps.
The first shall be...?

2020. That's still quite a way to go. But to be honest, I'm just happy the project is still running. I wouldn't have been surprised if all our hard work had ended up in a dusty drawer somewhere, never to see the light of day.
"Yes, it's going slow. But there are important developments going on that are creating a more positive attitude towards cycling in the city," Antoine said diplomatically, referring to the many cycling-related initiatives in Beirut and the design of a smaller "slow traffic link" (albeit without a cycling lane) along Jeanne d'Arc Street.
In other words, a lot is happening in Beirut on the cycling front. Change is coming, though slowly and in small steps.
If you believe Toni (I checked with him, and you can use his nickname too now) then there's reason enough to be optimistic about the future of cycling in Beirut. If it were up to him and the rest of the team, 2020 will be the year when Beirut is a city in which cycling to work is not only possible but also contributes to healthier public spaces and fosters much-needed dialogue.
An ambitious plan, for sure, but I think they may just pull it off. ⬤