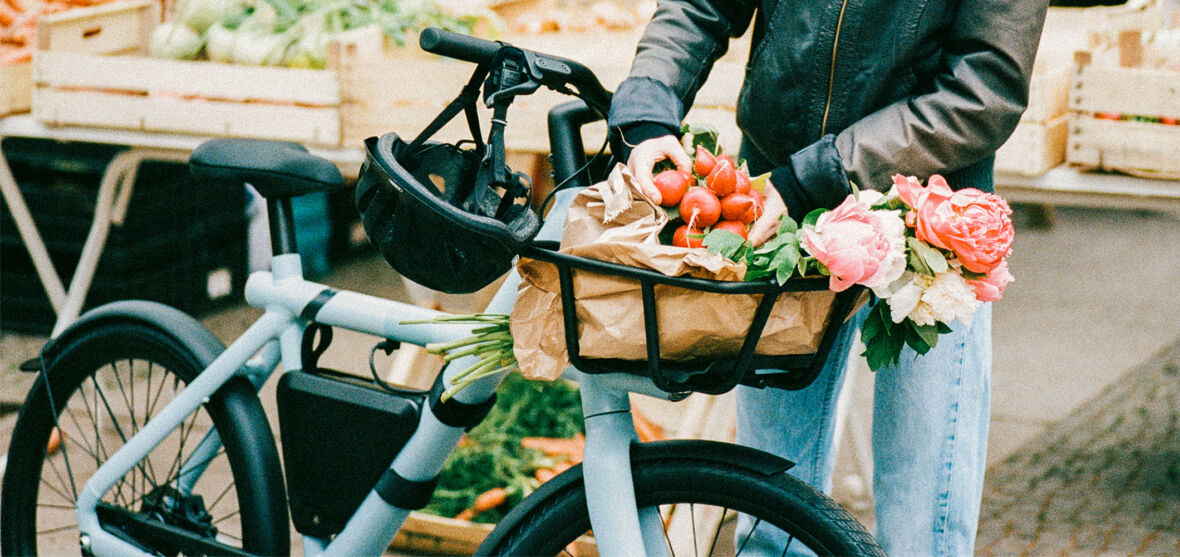 You've got the bike; we've got the gear. Want to be ready for whatever on your daily rides, and make your VanMoof stand out from the crowd? Accessories are the best way to get your e-bike kitted out for whatever the city throws at you.
The freedom to charge wherever, whenever
The removable PowerBank for the VanMoof S3 & X3 is one of our most-anticipated and best-loved accessories. Why? For riders like Alena, it's about the freedom it gives her: "Not having to think about where to charge my bike really eases my mind. I can plug in my PowerBank anywhere, so even longer bike rides are now totally covered." The PowerBank gives you up to a staggering 100 km extra range on your rides. So say goodbye to worrying about running out of juice on a journey: charge your bike whenever, wherever.
Our Smart Product Lead, Jean-Paul Niellissen, designed the PowerBank knowing it would help the two-wheeled revolution reach new levels of accessibility by tearing down a barrier that keeps people from choosing e-bikes: "'More people live in apartments, so we needed to come up with a different charging solution. The PowerBank is on one hand a range extender, and on the other hand gives people the opportunity to leave their bike downstairs and bring their battery upstairs to charge." And according to riders just like Alena, the design philosophy seems to have paid off.
Chuck it in, and go
Whether it's the perfect bunch of flowers at a streetside florists, or a necessary grocery stop on the way back from work, you want to be able to pick up anything along the way on your ride. Our Front Baskets make sure you stay nimble on your daily rides – and look pretty good while doing it. For those with an X2, with our wooden based baskets in popping Fog White or understated Thunder Gray, you can make your bike stand out on the rack. Our X3 riders can choose for a sleek aluminum basket in a classic matte black. We even have a handy video to show you how to install a Front Basket on your bike yourself.

Take a weight off
Our Front and Rear Carriers are as hard-working as they are good-looking, built from robust aluminum. Built to snuggly fit your bike – and be lightweight so you're never weighed down – carriers are the perfect way to make sure you can carry whatever you need. Got to transport something heavy across town? Our Rear Carrier can hold up to 15 kg. The Front Carrier can take up to 10 kg, and comes with a removable basket and elastic cord to strap in your items securely. Check out how to install your carrier.
Your new best friends
Want to hack the city? Get to know our handy panniers. If you've got groceries to carry home, or spontaneously want to pick up a gift for a friend en route, storage space on your bike is key. Our Small Pannier Bag snaps handily onto your bike's rear carrier, and is the perfect size for your everyday essentials, plus some extras. It's even got a shoulder strap so you can move it effortlessly to and from your bike. You'll be ready to ride whatever the weather, too: it's built to withstand extreme conditions and heavy rain.
Start 'em young: Child seats
Why should the grown ups have all the fun? Our bikes fit most standard child seats, but we think the Thule Yepp Maxi or Mini Child Seats are the best options for carrying your little ones up front. For one of our Riders of the Week, Roos, it makes riding even more of an experience: "My kid can't stop smiling which always turns heads when I'm biking. He's also in the prime position to press the Boost button – which of course, he loves!"
We don't blame him, Roos.