By day, Bastian Mehldau crunches data as a Growth Marketeer at VanMoof, but by night (and sometimes by day) he's also our newest Bike Hunter.
When the signal from a Berlin rider's missing Smart bike was picked up in Ukraine, Bastian got a crash course in what it takes to track bikes on foreign soil. Fresh from his first big hunt, he sat down to give us the scoop.
Back up. Ukraine? How did that happen?

It was all extremely last-minute, but hey, that's the nature of the job! On Friday morning I didn't even know a stolen VanMoof bike had been located in a foreign country, and by Monday I found myself hunting for it in Ukraine.

What's it like there?
It was my first time in Ukraine and I was a little nervous – over here, you often only hear about the civil war and how complicated the political situation is. But when I got there, I was surprised how 'normal' it felt. We met so many great people who were eager to help. It didn't feel dangerous at all, we didn't see any military police or violence on the streets. Maybe it's because I'm originally from Mexico…everywhere else feels pretty tame in comparison.
So how did you search for the Smart bike?
With the tracking signal, we could see the bike was moving between bike shops all over Chernivtsi. To avoid scaring off the thief, I posed as a student. With the help of a local journalist, we said we were looking for a bike that we'd seen online. I showed shop owners a screenshot of one of our Facebook ads to lend extra credibility, and several said that they'd seen a similar bike recently. We quickly formed the theory that the Smart bike had been loaded into a van with other (probably stolen) bikes, and the driver was going from shop to shop, trying to sell them to anyone they could.
''The tech can give you the upper hand, but it's ultimately up to your research and street smarts to get the stolen bike back.''
Did people buy your cover?
Hard to say. In the beginning they did, for sure. As we went on, people started to notice something wasn't right. By the end of the week, I think we'd been asking too many questions. Word had got out that we were looking for a VanMoof, and shop owners were more suspicious. Then, the bike's tracking started to move. It had gone quiet for days, but suddenly it was moving very quickly – clearly someone wanted to get rid of it in a hurry!
How much did you rely on the tracking tech?
Wherever you're hunting, it's always a mix between relying on the tech at hand and your own intuition. It would be totally impossible to follow a VanMoof to Ukraine without the built-in tech. But even when you see the bike's digital tracks you still have to come up with a strategy to find it. You always have to maximize your chances. Once you find patterns in the movement, you can predict where it will go next and hopefully catch the new rider unawares.
And did people recognize VanMoof?
I was surprised at how many did! Even if they didn't know it by name, a lot of shop owners recognized the VanMoof Smart bike in the picture we showed them, and were familiar with the features. These people really like bicycles, and when you go to a bike shop they absolutely know their stuff – plus they'll have 20-30 different brands to choose from. Because VanMoof design is so unique, it definitely stands out to them.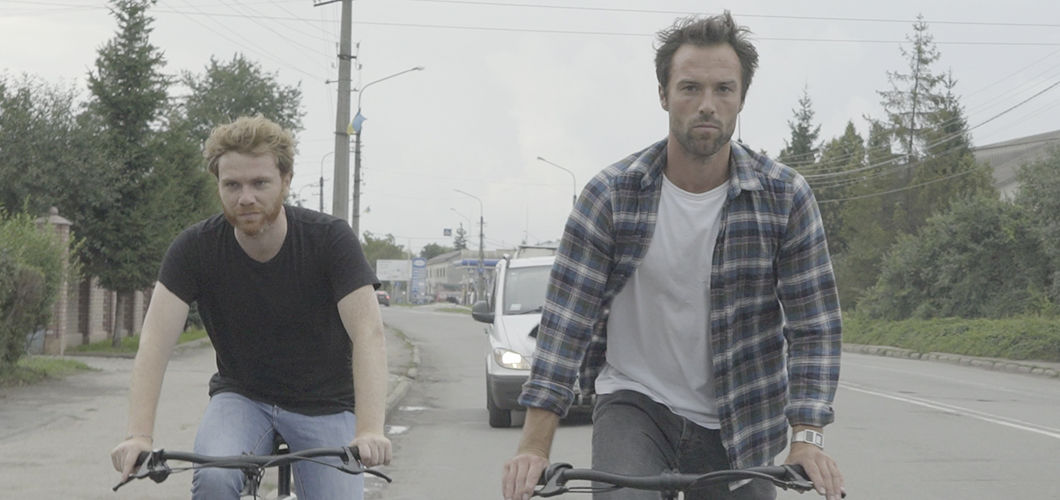 Were you ever in actual danger? Did you work with the police?
The important thing is that we had the help and insight of some amazing people, especially our local fixer and driver, who were great at assessing the real danger of the situations. When they told us not to do something, or that an area was too dangerous, we'd immediately take a different course of action.
But there were tense moments when I was a little afraid, sure. Where I'm from in Mexico, the police aren't always your friend, and you never know what will happen when they arrive on the scene. We try to work with the police as much as we can, but naturally, they have to prioritize more urgent crimes. It's the same here in the Netherlands: you report your bike stolen and they say, "Thanks, but we can't do anything about it right now." When the police got involved in Ukraine, our local team told us to let them handle the situation.
We're also always very careful with the current 'owners' of the bike if we find them. We never jump in and start accusing them because in most cases, the new rider genuinely doesn't know they're riding a stolen bike — they just bought it from a reseller.
This was your first big bike hunt. Anything you'll do differently next time?
I definitely learned how important it is to look closely at the data you have, and come up with a strategy before you get in the field. If the thief catches on that you're looking for a stolen bike, your plan falls apart before you start. It's also very useful to get a sense of an area's geography first. Then you already know where the bike might be hidden, or the different transport routes it might take. You're trying to stay one step ahead of the people that have the bike, so if you can surprise them it's all the better. At the end of the day, we're really just trying to provide good service to our customers and get stolen VanMoof bikes back to their riders.
Already planning your next bike hunt?
Definitely. The Ukraine bike hunt was both one of the strangest and most exciting weeks of my life...I can't wait to get back out there. ⬤
Want to relive Bastian's adrenaline-charged adventure? Catch the full episode here.