Cities & Cycling
Freedom Fields: how Pigalle's VanMoof-inspired collection took Parisians by storm at Paris Fashion Week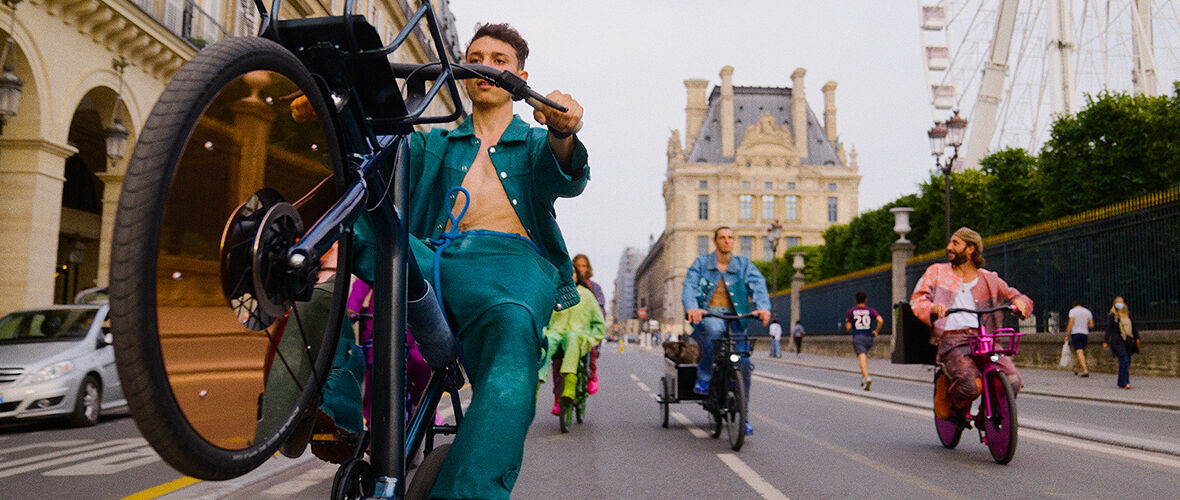 During Paris Fashion Week, Parisian designer and founder of streetwear brand Pigalle, Stéphane Ashpool unveiled his series of customized VanMoof e-bikes in an ode to biking. At Paris Fashion Week last year, our collective dream for freedom through biking began. And as lockdowns restricted movement in cities across the world, our journey towards better, greener and more joyous urban life has gathered momentum. From last year's Cycle to Next Season to this year's Freedom Fields, our partnership with Pigalle celebrates the freedom to roam. As a squad of eight iconic, customized VanMoof X3s took to Paris' streets, the power of the humble bicycle couldn't be more clear.
From neon greens to hot pinks, the Freedom Fields collection celebrated the joy of riding and the power of togetherness. Our agile X-shaped frame has long been recognized for its eye-catching individuality. So it was no surprise that Ashpool chose to restyle the VanMoof X3's minimalist design and unique features for his latest project. Producing eight bikes in vibrant colors, Ashpool imprinted each X frame with Pigalle's DNA. Riding proudly through the streets of Paris carrying boomboxes for Fête de la Musique, the annual music event that envelops the whole of France in a cacophony of sound, the customized VanMoof X3s celebrated fashion, music, color, and community spirit.
"The bike has a unifying power, it allows people to move freely: when they want and wherever they want."
Biking is freedom: an ode to the power of the bike
Ashpool himself has long been convinced by the power of the humble bicycle. "The bike has a unifying power," he remarks, "it allows people to move freely: when they want and wherever they want. It makes even more sense in cities like Paris where everything is very connected." The Freedom Fields collection communicates the liberating power of the bicycle, and celebrates its status as a fundamental part of daily life: the new standard of enjoying city life in the often heavily congested streets of major cities like Paris.
And since the effects of the pandemic took hold, riding in the French capital has taken on new meaning. As city-dwellers have had to rethink the way they navigate their cities, and people are increasingly reimagining the future of our urban spaces, bikes and biking have come to symbolize the transition towards a new era. At VanMoof, we're doing everything in our power to help people transition towards a greener, more connected, more joyous city lifestyle, while preserving a strong community spirit. With Freedom Fields, Ashpool fuels the fire of our mission. The collection extends far beyond the bold customization of the VanMoof X3. Freedom Fields appeals to city-dwellers in Paris and beyond, calling on them to free themselves from the status quo of big cities and reconnect with the benefits of biking.
Pushing boundaries; building momentum

At VanMoof, we set out to redefine the e-bike industry. And to successfully reimagine e-mobility, we have to constantly push the boundaries and challenge conventions. Our collaboration with Pigalle, a forward-thinking streetwear brand, marks the coming together of three parallel, yet interconnected worlds: fashion, art, and biking. The partnership helps us to portray e-bikes into a new light. As our Creative Director at VanMoof, Pascal Duval comments: "Often considered as purely technical tools, Stéphane Ashpool elevates the iconic VanMoof design to a new level." Building a better future doesn't have to be so serious. What makes bikes so enchanting, is the playfulness and interaction with your surroundings that they encourage. They're not just a means to get from A to B. Bikes are a way to be free.