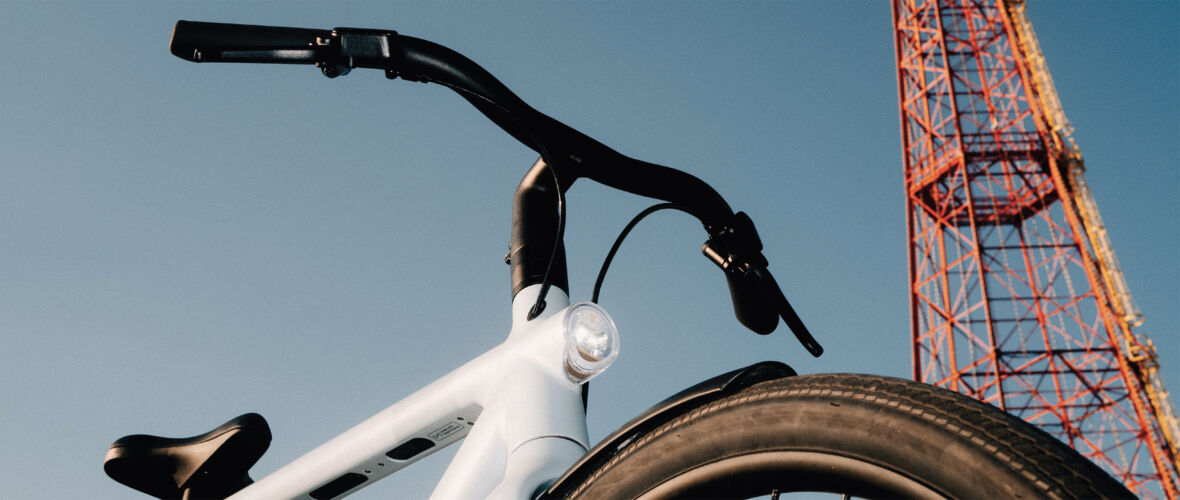 Bright blue skies; lush green parks; summer adventures just a bike ride away: it's enough to get anyone on two wheels. But just in case you needed a little more persuasion, here's why riding electric will change your life for the better.
1. Electric biking makes your life easier
Dread your stressful morning commute? Sick of the endless search for parking spots? We don't blame you. In fact, things are much better without the hassle. That's why when we set out to create the perfect city e-bike, one of our priorities was to design something that eliminated the stress that can come with getting around a busy city.
Riding an e-bike shrinks your commute to work. You'll arrive feeling energized, refreshed, ready for the day – and thanks to our trusty Boost button, not at all sweaty. E-bikes are faster than cars on congested urban streets, so you'll cut down your inner city journeys by 50% of the time on average. And be warned: conquering hills with ease and effortlessly jumping ahead of the traffic is a real buzz – once you've mastered the ride, you'll never look back.

Is forgetfulness your biggest enemy? This time, you can forget your bike keys. We made keyless unlocking even easier with our in-wheel Kick Lock: just secure your bike with a tap of your toe and get on with your day. If you're worried about the hassle of theft or general upkeep of an e-bike, don't be. With our Peace of Mind coverage plans, you can sleep easy: rely on our Bike Hunters to recover your ride if it's ever stolen, and our Bike Doctors to help out at the tap of our app if you need a repair or tune-up.
2. Electric biking unlocks your city. And makes it a better place.
By leaving old habits behind and choosing to ride electric, we can make our city better places for everyone – now and in the future. E-biking is zero emission, and more people on bikes means fewer people on other damaging forms of transport. You'll benefit from quieter, safer, cleaner city streets – and believe us when we say you'll notice the difference.
But we don't just believe that riding paves the way to greener, cleaner cities. We believe it opens up an entirely new world. Feel part of the fabric of the city as you weave through its streets and unlock its true potential in an instant. What may have felt just out of reach will now be within your grasp: all you have to do is reach out and take it.
3. Electric biking makes you feel better
Biking and wellbeing go hand in hand. Regularly riding a bike has countless positive effects on the body and mind, including better brain function, improved fitness, decreased stress, and boosted energy levels. You'll be happier, healthier, and fitter after just a couple of months of trading out bus journeys for bike rides. And don't just take our word for it: 200,000 VanMoof riders and counting can back us up.
Being behind a screen all day can take a real toll, and getting outside on your bike is the perfect antidote for our increasingly sedentary lifestyles. Wondering if you'll depend too much on the power assist level? Studies have shown that e-bike riders get about as much physical activity as those on ordinary bikes. You'll get out and about an e-bike more than you might normally, and be able to ride further distances with ease. And hey, you can always turn your assist level down if you want to push yourself – and save up a little battery.
4. Electric biking is a way to be free
As all biking veterans will agree, biking is not simply a way to get from A to B; it's a way to be free. You'll be liberated from traffic and bus schedules, never have to stick to the same old route, and be empowered to rediscover your city and beyond. Adventures lie right on your doorstep: you'll be surprised at how many discoveries you'll make just by following different routes and making pit stops whenever you feel like it.
There's no other way to say it: riding an e-bike is fun. Really fun. Feeling free is synonymous with one thing: flying. And you'll get a taste of that when you're accelerating past mopeds and over hills on your VanMoof. Trust us: the feeling's addictive.
5. Electric biking saves you money
Wave goodbye to eye-watering train fares, costly last minute Ubers, and rising fuel prices. Riding an e-bike will save you money in the long run. Once you've got your hands on your bike, you'll be faced with very few extra costs. And our bikes are designed to last: all parts of the VanMoof S5 & A5 are low maintenance and high quality, so your bike can stay on the road and out of the workshop.

You can also lease a VanMoof for a monthly fee and save money thanks to tax incentives (up to 40% of the cost of your e-bike with cycle to work schemes available to riders in countries like the Netherlands, Germany, and the UK). Have a look to see if there is a national cycle scheme you can benefit from, or ask your employer if they're partnered up with our Company Bike Program. Not only will you get your VanMoof for less money, you'll get to make the most of our complete Peace of Mind Theft & Maintenance coverage.