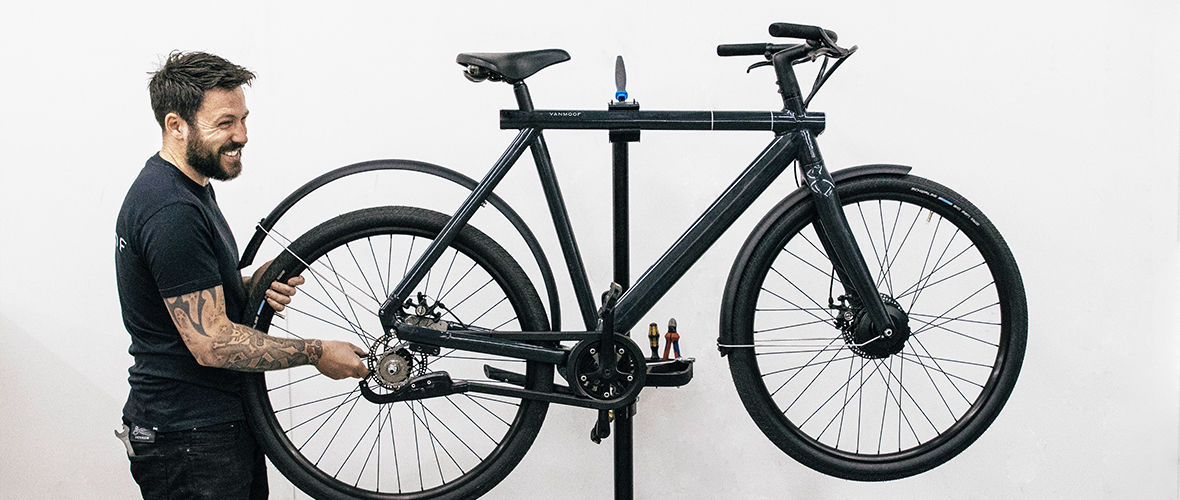 The Electrified S2 & X2 are designed for effortless servicing – just ask Senior Bike Doctor Paul Lett.
I worked as a bike technician for ten years, then retrained in graphic design. VanMoof is a place where mechanical and aesthetic design come together. I've worked with other bike brands, but VanMoof is different in every way imaginable.
The workshop was instantly familiar, but VanMoof bikes operate on another level. I came to the team with a pretty gung-ho attitude, thinking I knew everything. But I quickly realized how much more could be done with two wheels – I had to start over from scratch.
The Bike Doctors have a close relationship with the Product Design team. We're always the first to identify issues, and we can go directly to the engineers and push them to make the bikes even more resilient. And we've seen that feedback coming to life in the Electrified S2 & X2 – they're way more durable, and much easier to service.
The new Electrifieds have modular internals; there's no more delicate cabling or connectors to deal with. You just slide the Smart Cartridge out, and replace it with a new one if necessary. It means customers can now service their bikes from afar. I don't know if that would've happened without our back-and-forth with Product Design.

I've learned a lot, almost too much. There's a lot to know about VanMoof, because we're constantly changing and optimizing our designs. But with such a streamlined range of bikes, we can really focus and develop our knowledge. Every Bike Doctor has to be a real VanMoof expert.
As the bikes become more and more reliable, our work becomes much simpler. It's a nice problem to have – the nature of our work is changing as the company grows.
Learn more about the revolutionary Electrified S2 & X2 on the VanMoof website. Want to ride with us? Visit our Jobs Page to see all current opportunities.