The world's most advanced e-bike needs an app to match. Digital Product Owner Myrthe explains how the VanMoof app unlocks the S3 & X3's true potential.
As VanMoof grows, the app has become an integral part of our bikes. The VanMoof S3 & X3 are minimalist by design, but they're packed with smart technology. We could add extra screens or controls, but why complicate things when you're already carrying a supercomputer in your pocket? The VanMoof app optimizes the bike's internal tech, boosting it with the computing power and connectivity of your smartphone. It gives you access to so much more functionality while keeping the bike incredibly simple to ride.
A lot of smartphone apps are specifically designed to steal your attention and keep you using the app as long as possible. We have the complete opposite mentality, which is fairly unique in the app world. By adding 'passive' functionality, we can trigger the majority of actions via background connectivity. On a perfect day, you don't even need to take your phone out of your pocket – so you can stay in the moment and enjoy the ride.

The VanMoof App allows us to take our customer experience that much deeper. It can now help with everything from the bike unboxing and onboarding, right through to troubleshooting. And that's on top of being able to see your bike's location, tracking your journeys with VanMoof Rides, and alerting the Bike Hunters if your bike ever goes missing.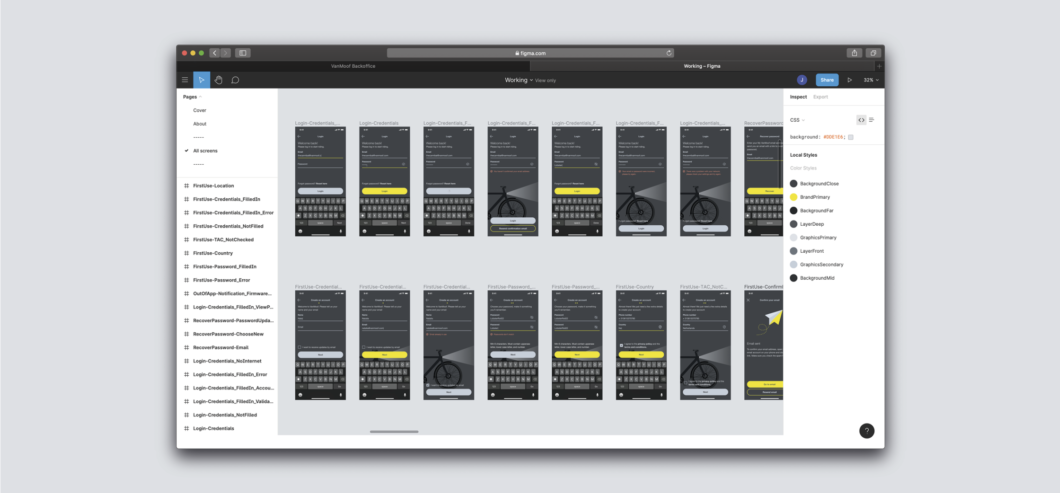 Our e-bikes blur the boundaries between hardware and software, and now our product teams do the same. We'll involve all parties when designing and testing, to make sure everything is integrated as deeply as possible. Even with something as simple as the bike's lights, I'll make sure our app and Bluetooth developers are there from the start, specifying how things should work. They work hard to keep everything compatible and make room for future functionality.

Our app team is relatively small: we have three Android developers and four iOS developers in-house, with two backend developers and a dedicated Bluetooth developer. We're always growing, but I like to keep the team streamlined. It means we can be very agile – we're pushing new updates and bug fixes every month, which is far above industry average.
The VanMoof S3 & X3 are designed from the ground up to improve app integration. You can now push firmware updates via Bluetooth, which is much faster and a huge quality-of-life improvement. Even something as small as adding the connection dot to the Matrix Display makes life so much easier for our riders and developers. Before there was no way to confirm the app had successfully connected to your bike. Now it's as simple as glancing at the display. It's a tiny change which removes a lot of confusion from your ride.
We'll always prioritize stability. Your bike is a functional tool in daily life, and we need to make sure you always have access to it. We're thinking of connectivity and day-to-day ease-of-use before we think about adding new features. And when we do add something new, we trial it extensively to confirm it doesn't affect usability. I pay careful attention to our user analytics, so we can see which parts of the app get the most attention from our riders. We also have a very active community, so we know we'll have useful feedback as soon as we release a new version – which we can act on immediately.

The VanMoof S3 & X3 are transforming cities worldwide. Take a test ride, and discover what it's like to ride the future.