VanMoof Rides puts your riding data in the palm of your hand. Developer Joost introduces our app's latest feature, and explores its future potential.
I've been at VanMoof for nearly a year now, and Rides has been my main focus since the beginning. It's really rewarding to see a project grow like that, from the first sketches and prototypes, all the way to the final release. It's also great to work on a project which gets me out from behind my desk – I spent a lot of time riding around Amsterdam testing it.
As you ride, the motor sensors send speed data to your phone via the internal Smart Cartridge. The VanMoof App then transmits this information to our backend servers, which combine this with your riding time to calculate the distance. This is then sent back to your phone as soon as you finish the ride. This way, we don't need to access your location, or store potentially sensitive data on our servers – it's all anonymous, and calculated in real time.

Rides is a feature that our riders have been requesting for a long time. We always look to our community for direction and inspiration, but building a service like this is more complex than it sounds. We could easily track rides with your phone's GPS, but we knew we had to balance any functionality with protecting our riders' privacy.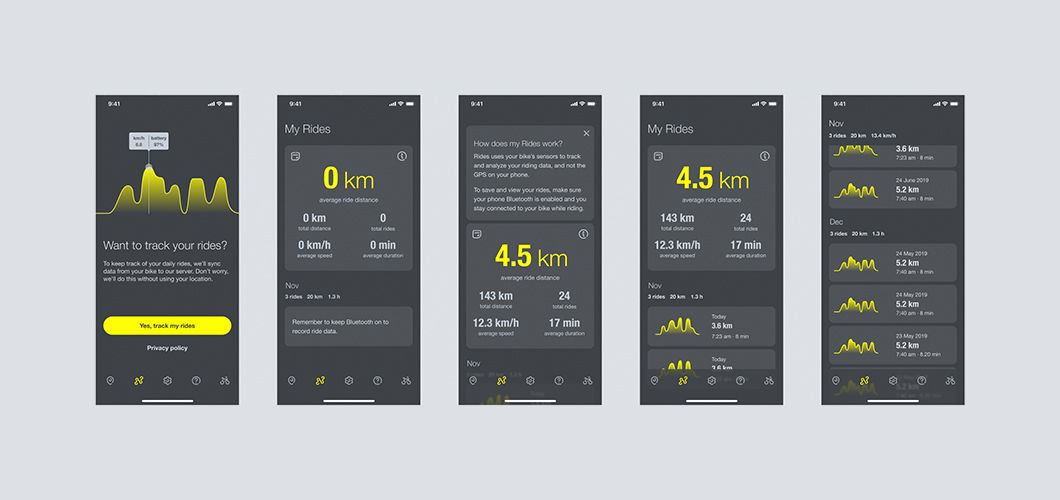 Right from the start of the project we had to ask ourselves, "what value does this add to the VanMoof experience?" It's a really important consideration when you add any new feature to a product. We already know our riders like to have insights and information about their daily behaviors – people track all sorts of data on their phones and wearables. For us, it's about finding ways to make data from the bike as accessible and interesting as possible.

Rides is a completely opt-in service, and it's designed so that we have no way of accessing your bike's location. The data we gather is completely 'innocent', which means there's no way to exploit it or take advantage of the system. There's no way for you to see other rider's data – unless you choose to share it, of course.
At this stage, we're only hinting at the future functionality of Rides. It's nice to see how far you're riding – especially if you've made the switch from driving or taking public transport – but we can use this data to your bike's performance over time, or predict how long your battery can take you at the current charge level.
We want to make your data accessible and meaningful, but we also want to make it as fun as possible. In the near future, we want to add more insights to the ride tab – so we'll congratulate you for your longest rides, or give you little rewards for certain riding achievements. Of course, we don't want to overload you with notifications, so we have to find the balance. I also think it could be really valuable to compare data on a city-scale. We're not so interested in adding a competitive element, like Strava, but we can use this information to see how our riders are really changing the world.

The VanMoof S3 & X3 are transforming cities worldwide. Take a test ride, and discover what it's like to ride the future.