When London dentist/photographer Oliver Dunsch told us he wanted to shake up his routine, we had three little words for him: let's do this. Then we set him loose on our new Electrified S2 bike for 72 hours.
Why 72 hours? It's a magic amount of time. Long enough to let yourself get lost in the ride. Short enough to not cry too much from the heartbreak when it's over. If a quick go around the block can give you a good first impression, then a long weekend is the ultimate test of the ES2's superpowers.

In his own words, here's Oliver's journal of his three-day Electrified escapade...
_____
"So how many electric bikes have you tried out?" they ask me at the VanMoof store as they set me up with a thunder gray Electrified S2.
"None!" I answer. I've been a VanMoof fan ever since I visited Amsterdam a couple years back and saw the first generation Electrified, but I'm really not in the market for an electric bike. Sucks for me that I'm so hopelessly in love now.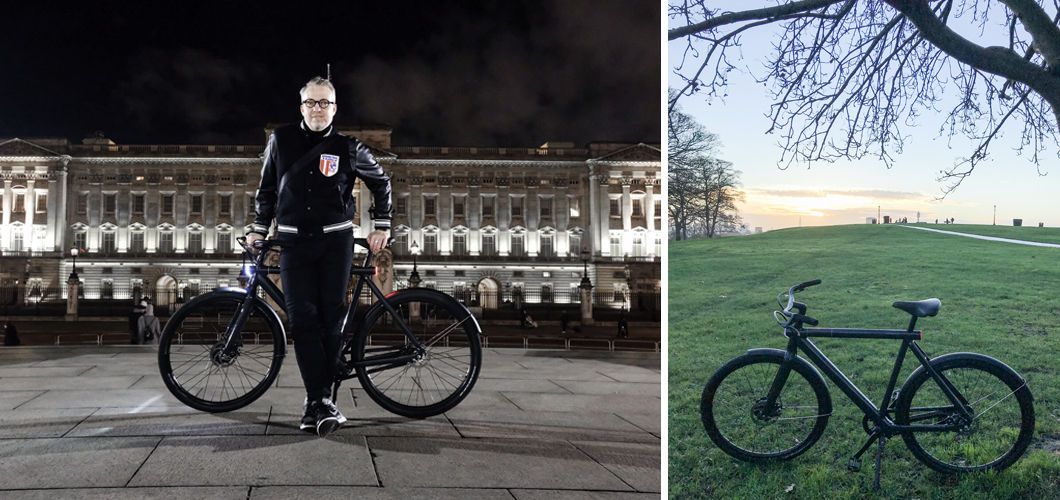 Instead of heading straight home with the bike like I planned, I keep going — through Hyde Park, through the Wellington Arch near Hyde Park corner, past Buckingham Palace, Big Ben, Westminster Bridge and The London Eye. It feels like I'm almost flying through the night.
I admit it: I keep the power assist on level 4 (the highest level) for the whole weekend. It does crazy things to you. It makes you want to compete with the traffic, go farther and really explore.
It feels like I'm almost flying through the night.
The next day I decide to get up early, since the weather forecast has promised a fairly sunny day. So why not head up Primrose Hill for the sunrise? After competing with the cyclists on the racing machines around Regent's Park, of course. (Yes, they hate me…)
At the top of Primrose Hill, people are already gathering for the sunrise views. Even that early, they're curious and get me talking about the bike. I can't help it, I swear. It's just a pleasure to hop on and get going.
I feel like my mindset changes too — it's almost spiritual. I'm more creative and free. It's more than just the A to B, it's a lightness that makes you want to incorporate as many detours as possible.
I'm from Frankfurt originally, but always wanted to live in London. So four years ago, when I unexpectedly got the chance to make some big changes in my life, I moved here from Germany— without any prospects. For me it was about embracing the city, and letting the city embrace me. Four years on, I'm a full-time dentist moonlighting as a photographer. It really feels like London is my city now.

On the Electrified S2, my favourite areas in the city suddenly don't seem so far apart, and it's a pleasure to ride from East to West, visiting all the best spots in one go. All in all, I clock in about 90 km over my leisurely long weekend with the ES2.
On one of my detours for a croissant and coffee, I bump into a fellow VanMoof rider close to the Sherlock Holmes museum. He's enthusiastic about the new bike. It crosses my mind that Mr. Holmes would be, too, if he'd had the chance to ride one...
I clock in 90 km over my leisurely long weekend with the Electrified S2.
During the one odd dangerous situation I'd love an even louder bell, and when it rains, slightly less slippery pedals. But hey, speeding down the CS6 & 8 (London's Cycle Superhighway) is doable with ease, so I'm happy. In case you're wondering, transporting delicate stuff (like Christmas ornaments) at high speed on this bike is also no problem.

The rain sets in hard on Sunday, so I head back to Seven Dials to drop off the bike and have a nice chat with the guys from VanMoof about my 72 hour test ride. I love the design, the gadgets, the saddle, the handles — and it's pretty perfect for my taller-than-average height.
Conclusion: I know I said I wasn't in the market for an electric bike, but the Electrified S2 is the only one I want. Oops. ⬤


This interview was edited for clarity and for length. Find more of Oliver's photography and riding adventures on Instagram: @odlondon